Big Fan Movie Trailer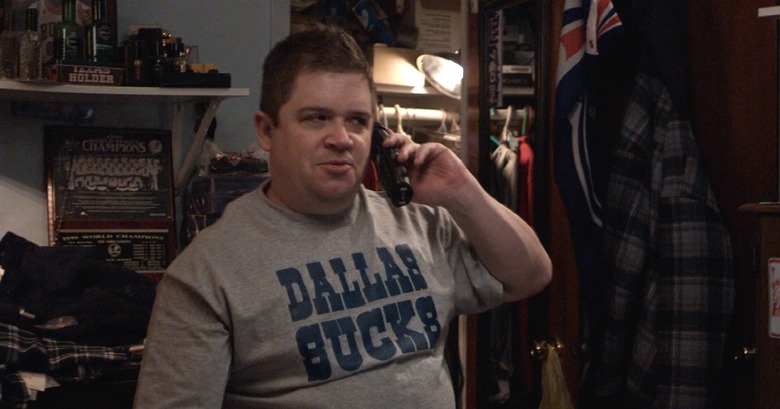 One of the most anticipated films of the 2009 Sundance Film Festival was Big Fan, the feature directorial debut of Robert Siegel, screenwriter of Darren Aronofsky's The Wrestler and former editor of The Onion . The film was met to mixed reviews, not because its a bad movie, but because most everyone I talked to walked into the screening expecting something else entirely. The film stars comedian Patton Oswalt as a 35-year-old parking garage attendant from Staten Island, who is the self-described "world's biggest New York Giants fan.
He lives at home with his mother, spending his off hours calling in to local sports-radio station 760 The Zone, where he rants in support of his beloved team, often against his mysterious on-air rival, Eagles fan Philadelphia. His family berates him for doing nothing with his life, but they don't understand the depth of his love of the Giants or the responsibility his fandom carries. One night, Paul and his best friend Sal spot Giants star linebacker Quantrell Bishop at a gas station in their neighborhood. They impulsively follow his limo into Manhattan, to a strip club, where they hang in the background, agog at their hero. Paul cautiously decides to approach him, stepping into the rarefied air of football stardom — and things do not go as planned. The fallout of this chance encounter brings Paul's world crashing down around him as his family, the team, the media and the authorities engage in a tug of war over Paul, testing his allegiances and calling into question everything he believes in. Meanwhile, the Giants march toward a late-season showdown with the Eagles, unaware that sometimes the most brutal struggles take place far from the field of play.
With Oswalt in the lead, most festival-goers were expecting a flat out comedy, but were shocked to find a dark dramedy. Big Fan is a character study much in the same vein of Siegel's The Wrestler. It is a profile of an obsessed sports fanatic who has invested too much of himself into a past time. You might not like the twists and turns, and you probably won't have any idea where this story will conclude, but you'll walk out of it with an all new respect for Oswalt — who proves he has dramatic chops on top of the comic timing. Watch the trailer after the jump.
Watch the trailer in high definition on Yahoo. Big Fan hits theaters on August 29th 2009.