Trailer For Dario Argento's Giallo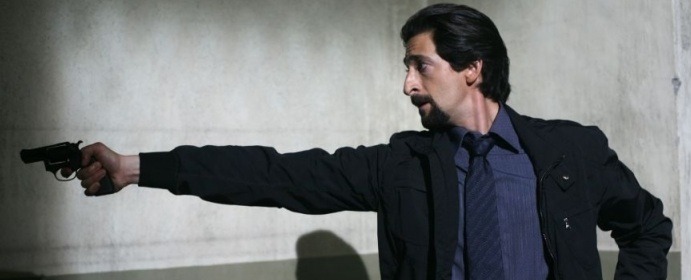 Dario Argento's latest is Giallo, named for the mystery-horror genre that he is, or at least was, the undisputed master of. It stars Adrien Br0dy, Emmanuelle Seigner and Elsa Pataky. The film premiered at the Edinburgh Festival last month and is next scheduled to screen at Frightfest in August. I've been somewhat concerned about the film for a while now, with word bubbling up from even the most Argento-faithful that perhaps it doesn't really work. Having said that, the trailer looks just the way it should. Check it out for yourself after the break.
Dedicated Argento fans will recognize some of his favored stylings in a number of the shots, though there's not as much flash on display here as in his more grand flourishes of old.
In his earlier movies, Argento would always play the gloved hands of the killer himself. You can see some tight close ups in the trailer that would have permitted that here, but apparently he doesn't do that anymore. What a spoilsport.
Adrien Brody is not only the star of the picture, he's credited as a producer. If the rumors are to be believed, he also held sway over the casting, marketing and even rewriting. His initial reason for becoming involved was very personal, as he told IFQ:
The role of Celine, a fashion model who is abducted, was first offered to my girlfriend, Elsa [Pataky]. It's a very challenging role as the character is put through terrible torture. My initial interest to come on board creatively stemmed from a sincere desire to make sure she was safe. What's interesting is that by playing the detective in the film, the motivation of my character is also to protect her from harm. That being said, it was also a chance to work with the legendary master of Italian horror films. He's one of the greats.
I'm looking forward to Giallo an awful lot and even if the advance word holds true and it doesn't really gel, there's almost inevitably going to be a lot of incidental pleasure along the way.
Thanks to Bloody Disgusting for the trailer.