Watch Aziz Ansari Do Stand-Up Comedy In Judd Apatow's Funny People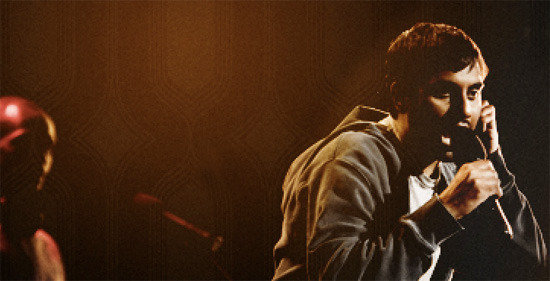 Universal has been launching a bunch of cool viral websites for Judd Apatow's Funny People. First we had some clips from Jason Schwartman's character's pilot television show Yo Teach. A couple weeks ago they launched the official website for comedian/acotr George Simmons (the main character of the film played by Adam Sandler) complete with video clips from some of his filmography. Today they have launched (NSFW) LaughYourDickOff.com, the official website of Randy (played by Aziz Ansari in the film).
Randy is a superstar comic living in Los Angeles. In addition to being a show-stopping comic performer, he's socially conscious, too. Check out the "Randy in Darfur" section of his website and find out where you can send your cashier checks to help support Randy...er, the cause.
The website includes a bio, tour dates, a soundboard, and more. The best part is a bunch of video clips from Randy's stand-up comedy shows, which you can watch embedded after the jump. Warning: NSFW, and I apologize for the autoplay, but Universal doesn't allow any way to disable it.
Impressions:
Click on view more videos to see more.