Gilliam Announces That He's Canned Zero Theorem, Offers Depp First Dibs On Quixote... But Depp Doesn't Seem To Be Biting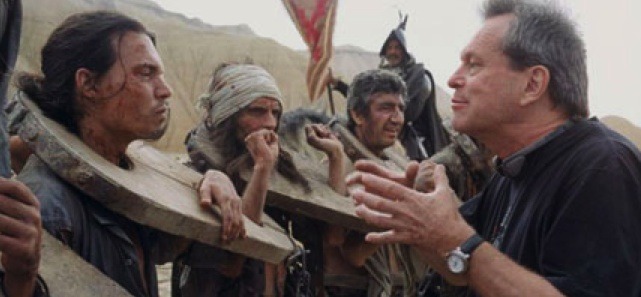 Phil Stubbs of Dreams, the splendid online Terry Gilliam fanzine and forum, has recently had another chance to chat with the master director about his films upcoming, and one definitely no longer approaching. Though Gilliam is still currently working on the PR and sales for The Imaginarium of Dr. Parnassus, he's also preparing to film The Man Who Killed Don Quixote next spring. His last attempt to mount the production was infamously thwarted by a whole heap of unfortunate coincidences, giving rise to the Tragi-documentary Lost in La Mancha. That time around it starred, or was in the process of starring, Johnny Depp as a commercials director transported into a Cervantes novel. Next time around, however, that most definitely won't be the case.
For one thing, the character is now a screenwriter courtesy of a script rewrite that has turned the best thing Gilliam ever wrote into something reputedly even better (the best thing he ever wrote plus a victory lap?) And furthermore, while Gilliam says he's offering Depp first refusal, Depp doesn't seem to be about to come onboard anyways. Here are their respective quotes:
Johnny gets first dibs on the thing. I think he is just tied up with too many big projects that he is locked himself into. Neither Jeremy nor myself feel we can wait until Johnny's available. Nevertheless, he gets first choice, and we'll see if anything changes on his dance card.
We have talked about it. But to be honest, the thing about Terry... I love Terry, and I'd do anything the guy wants to do, but with Quixote... my dance card is pretty nutty for the next couple of years. So I'd hate to put him in a position – or ask to be in a position – where he'd have to wait for me. That would be wrong. But also... I feel like we went there and tried something, and, whatever it was – the elements and all the things that got up underneath us – were there and happened and were documented well in that film Lost in La Mancha. So I don't know if it's right for me to go back there. I don't know if it's right for Terry to, but if he wants to...
That quote from Johnny comes from Aint It Cool, where he was mainly discussing the surprisingly ramshackle Public Enemies. Depp's 'dance card' might be filled to bursting but, frankly, most of it looks like utter dross. How disappointing his legacy is now going to be besmirched with The Lone Ranger or more Pirates puff than buoyed by The Man Who Killed Don Quixote. At least he'll most likely be good in the films.
Gilliam also told Phil Stubbs what happened to his proposed sci-fi headbender, The Zero Theorem:
I thought I could do it quite quickly and cheaply, and that would be a nice one, rather than getting caught in more expensive, more complicated or hard-to-finance things. But the year just got swallowed up by Parnassus and publicity, and preparation for Don Quixote. I just didn't think it would be viable and I pulled the plug earlier this year.
A crying shame. And, yes, I mean that almost literally.
So, I don't think we'll be seeing Johnny Depp back in the saddle for Quixote mkII. Who could replace him? And who would make good casting for the title role, the dreaming Don himself? I'm hoping for John Hurt there... but in the Depp role? Sheesh. I can't even begin to guess. Once upon a time Heath Ledger looked like the obvious deputy.
Gilliam's about to start casting and location scouting. Watch this space.