This Week In DVD: Street Fighter, 12 Rounds, Entourage, Eastbound & Down, And More
This Week in DVD is a column that compiles all the latest info regarding new DVD releases, sales, and exclusive deals from stores including Target, Best Buy and Fry's.
Please don't take the commentary on the movies and TV shows too seriously, as they're meant not to be reviews but rather previews that include the general thoughts and ramblings of a twice-committed DVD addict. The categories represent solely the author's intentions towards the DVDs at hand, and are in no way meant to be a reflection on what he thinks other people should rent or buy. So if he ends up putting a movie you like in the "Skip it" section without having seen it, please keep in mind that the time you could spend leaving a spiteful but ultimately futile comment could instead be used for more pleasant things in life. Like buying DVDs.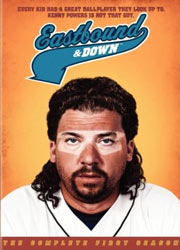 EASTBOUND & DOWN (SEASON 1)
Eastbound & Down creator/writer Jody Hill's style of comedy definitely isn't for everyone, but those capable of embracing his raw, cynical attitude may just find themselves rewarded with one of the funniest shows television has to offer. So far, everything Hill has done revolves around a specific formula: bad things happening to bad, dumb people. Between this and Observe & Report, I doubt there's any mystery about Hill's feelings toward a large majority of the American public; regardless of the crazy situations his characters get into, there's always this sense of depressing truth to them, always making sure we know that people like this aren't too far off from the type of people you might find in any small middle-to-lower class town. This aspect of the show helps elevate it beyond a simple dark comedy to somewhat of an unsettling character study, presenting one man's desperate struggle to cling to this distorted reality that his fame helped create for him, only to find actual reality settling in and crashing down on him.
Blu-ray? No.
Notable Extras: An audio commentary with creator/writer Jody Hill, actor Danny McBride, director David Gordon Green, and writer/actor Ben Best, "Making Eastbound & Down", "Kenny Powers: Greatest Hits", "Schaeffer Motor Commercials", "Stevie's Dark Secret", and deleted scenes.
EXCLUSIVE DEAL:
What? Free $5 GiftCard when you buy both Eastbound & Down (Season 1) and Entourage (Season 5) on DVD.
Where? Best Buy.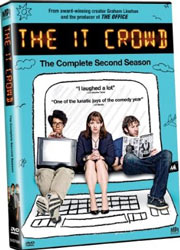 THE IT CROWD (SEASON 2)
There are certain comforts we have in life; small things we've come to accept that help dictate the choices we make. I had one such comfort: that, unless the show was called either Seinfeld or Friends, no sitcom with a laugh track would ever be funny. But over the course of the last several months, two shows have taken this useful philosophy I've come to live my life by, and reduced it to nothing more than unfounded ramblings. The first is How I Met Your Mother. The second, as I'm sure you've guessed by now, is The IT Crowd. While I'm not quite as enamored with it as so many others seem to be, there's a lot to love about this addictively watchable British comedy series. My only real complaint about it is that two out of the three main characters are almost more annoying than funny (Roy is mostly just loud and obnoxious, while the actress who plays Jen overacts to an aggressive degree). This leaves it to the third character, the socially oblivious yet charmingly innocent Maurice Moss (played by the hilarious Richard Ayoade, who also appeared in The Mighty Boosh), to basically carry the whole show. Impressively enough, he succeeds.
Blu-ray? No.
Notable Extras: An audio commentary by creator Graham Linehan, a making-of featurette, and outtakes.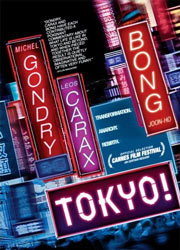 TOKYO!
Similar to Paris, je t'aime, Tokyo! is a compilation of shorts that act as a love letter of sorts to its respective city. The main difference though, is that Tokyo! simplifies the formula by limiting things down to a much more manageable 3 segments instead of 18. Some may be put off by that, but hopefully that will change once you hear who the directors are: Michel Gondry (Eternal Sunshine of the Spotless Mind) and Bong Joon-ho (The Host). I'm unfamiliar with the third director (Leos Carax), but no matter; those first two are already more than enough to perk my interest and guarantee a rental.
Blu-ray? Yes.
Notable Extras: Three making-of featurettes and director interviews.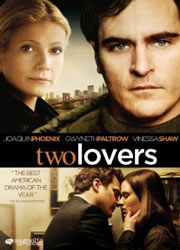 TWO LOVERS
When in doubt, trust Rotten Tomatoes. This isn't normally the type of film that would interest me, but I'm a big fan of Joaquin Phoenix and am always open to seeing what else he has to offer. Or at least, that's what I would've said before he decided he should grow a massive beard and start a rap career. His recent mental collapse aside though, I still have complete faith in his acting abilities. And from the sounds of it, this is the type of romantic drama that both guys and girls can appreciate.
Blu-ray? Yes.
Notable Extras: An audio commentary by director James Gray, a behind the scenes featurette, deleted scenes, and a HDNet: A Look At Two Lovers featurette.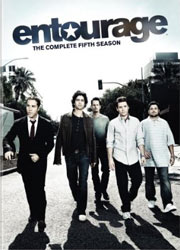 ENTOURAGE (SEASON 5)
This show has become so repetitive and devoid of originality, even the parodies making fun of it have started to repeat themselves. At least seasons 1 through 4 had the illusion of story progression. But as season 5 lurched onward, the recycled formula we had become so accustomed to seeing season after season really started to reveal its transparency. Despite this, I kept watching, hoping that the writers would realize that audiences had caught on and decide it was time to change things up. Instead, we received the show's weakest, most unoriginal season yet. It was almost as if the writers deliberately crafted situations where characters have to make decisions that could either significantly alter what we've come to expect from the series, or have them do the same damn thing we've seen them do countless times before. Guess which path all of the characters end up taking?
Blu-ray? No.
Notable Extras: Three commentary tracks and a Celebrity Factor featurette.
EXCLUSIVE DEAL:
What? Free $5 GiftCard when you buy both Eastbound & Down (Season 1) and Entourage (Season 5) on DVD.
Where? Best Buy.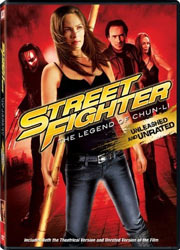 STREET FIGHTER: THE LEGEND OF CHUN-LI
If there's one reason to see the critically panned (or rather, critically decimated) Street Fighter: The Legend of Chun-Li, it's to watch in awe as Chris Klein commits every ounce of his being in delivering one of the most staggeringly awful performances in the history of cinema. Here's an excerpt from MSNBC critic Alonso Duralde's review: "I can't remember the last time I watched an actor fail to walk into a room convincingly, but Klein does it. Look for a YouTube montage of his 'Street Fighter' performance to pop up any day now." Sadly, while that YouTube montage actually did exist for a short while, Fox saw fit to have it removed. So if you're interested in experiencing the vast amount of suck and unintentional hilarity that is Klein's acting ability (or lack thereof) in this film, you're going to have to find some other means of doing so. Like, god forbid, actually renting the movie.
Blu-ray? Yes.
Notable Extras: Commentary by Patrick Aiello, Ashok Amritraj, Neal McDonough and Chris Klein, 14 deleted scenes, 3 featurettes ("Becoming a Street Fighter", "Chun Li: Bringing the Legend to Life", "Fox Movie Channel Presents Making A Scene"), production and storyboard galleries, Arcade to Film Comparisons, and a Street Fighter Round One: FIGHT! Animated comic movie.
EXCLUSIVE DEAL:
What? Free $5 GiftCard when you buy both Street Fighter and 12 Rounds on DVD or Blu-ray.
Where? Best Buy.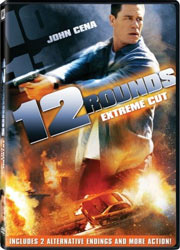 12 ROUNDS
There are two distinct categories that a B-action flick such as this can fall into: (1) dumb but fun, or (2) fun because it's dumb. There's also a third more unfortunate category: (3) dull, excruciating awfulness with no semblance of fun whatsoever. Whichever option you end associating with 12 Rounds depends largely on your personality, but for most, I'm going to assume #3. Others though, may find themselves in bad-movie heaven (good ol' #2). If you're having trouble figuring out which group you fall into, allow me to help. One of the rounds in the film, as concocted by the diabolical mastermind who has set all these elaborate "games" in place, prompts the following question: Can John Cena lift a fat guy out of an elevator before time runs out? I won't spoil the nail-biting conclusion, but if that scenario makes you laugh, you'll probably enjoy this movie.
Blu-ray? Yes.
Notable Extras: Commentary by director Renny Harlin, writer Daniel Kunka and actor John Cena, 2 alternate endings, a Crash Course: John Cena Stunts featurette, and a gag reel.
EXCLUSIVE DEAL:
What? Free $5 GiftCard when you buy both Street Fighter and 12 Rounds on DVD or Blu-ray.
Where? Best Buy.
Other noteworthy DVDs available this week...
Jonas Brothers: The Concert Experience (Single-Disc Edition / Two-Disc Extended Edition) – Do the Right Thing (20th Anniversary Edition) – Eureka (Season 3.0) – Tunnel Rats

NOTE: Some deals may be in-store only.

$16.99 – Entourage (Seasons 1 – 4), Flight of the Conchords (Season 1), SNL (Seasons 1 – 4), Friends (Seasons 1 – 10), How I Met Your Mother (Seasons 1 or 2), and more...

Exclusive: Free Collector's Pin Set when you pre-order Watchmen on DVD or Blu-ray.
Exclusive: Free movie voucher to see Public Enemies or Bruno with purchase of select DVDs, such as...
$7.99 – American Gangster (2-Disc Unrated Extended Edition), Scarface
$11.99 – The Big Lebowski (10th Anniversary Edition), Burn After Reading
$16.49 – Reaper (Season 1)
$19.99 – Supernatural (Season 1)
$21.49 – Smallville (Season 1)
$24.49 – Veronica Mars (Season 1), Nip/Tuck (Season 1)