Michelle Trachtenberg And Jim Norton Join A Couple Of Dicks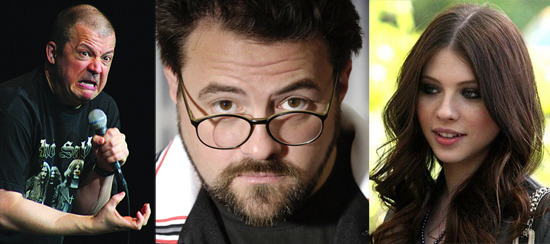 Kevin Smith's buddy cop comedy A Couple of Dicks has been filming in and around New York City for a month now, but a few more names have been added to the cast list. Last night we told you that Jason Lee would be filming a small part in the film, and tonight Variety confirms our earlier report and adds one more name to the list: Michelle Trachtenberg, best known as Dawn Summers from Buffy the Vampire Slayer or Georgina Sparks on Gossip Girl. Comedian Jim Norton (of Opie & Anthony fame) also has a small role in the film, which he filmed earlier today (see his Tweet). Trachtenberg will play the daughter of Willis' character, and Lee will portray her stepfather.
Written by Robb and Marc Cullen, and featured on the 2008 Black List (a Hollywood insider list of the best unproduced screenplays of the year), The film stars Tracy Morgan and Bruce Willis as two veteran LAPD detectives who attempt to track down a stolen, mint-condition, 1952 baseball card, get tangled with a sports memorabilia-obsessed gangster, and rescue a Mexican beauty named Gabriela (Ana de la Reguera), who might hold the key to millions in laundered drug money.
Adam Bordy, Sean William Scott and Kevin Pollak also have roles in the film. A Couple of Dicks is tentatively scheduled to hit theaters on February 26th 2010.