Can Michael Bay Be Convinced To Fast Track A Transformers 3?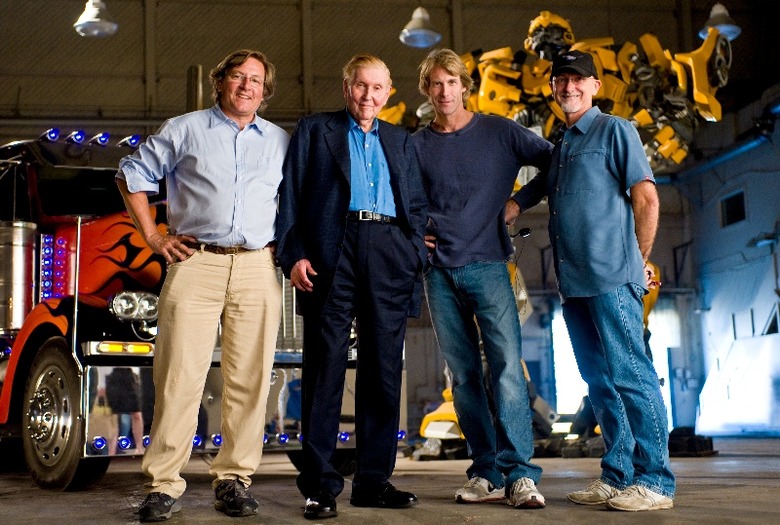 After Transformers: Revenge of the Fallen's monstrous 5-day domestic box office take of $201.2 million, Dreamworks/Paramount is going to want to fast track a third film into production and strike while the iron is hot. But will Bay hold up the big giant robots return to the big screen?
The studio has announced a July 1st 2011 release date for another sequel, but Michael Bay has been saying that he wants to make a smaller film before returning to the big robot action. And a Summer 2011 release date would mean that he would need to begin development within a couple months, and would have no break.
Screenwriters Alex Kurtzman and Roberto Orci have their plates full already. They are working on Cowboys and Aliens, and have promised Paramount a draft of Star Trek 2 by Christmas. But the Transformers scribes have already publicly said that they aren't necessarily interested in returning for a third film. And some might argue that it would be best for the project if Kurtzman and Orci were not being involved in a third film. Opinions of Orci and Kurtzman aside, it's worth noting that the writer's strike is more likely to blame for the subpar screenplay for Revenge of the Fallen.
It seems more likely that Bay will move ahead with his self-described "small Pulp Fiction-like project", Pain & Gain, which tells the true story of a couple of Florida steroid-abusing knucklehead bodybuilders who become criminals involved in an extortion ring and a a kidnapping plot that goes horribly awry [read more info about that project here]. The project actually sounds like a nice departure for Bay, a film which is more character development than explosions (actually, from what I hear, there is no explosions, only a car crash).
But who knows, Paramount might be able to offer Bay a deal he can't refuse. But since Bay already makes an estimated 8% on Transformers movie toys, and a good percentage on the back end (enough to make Bay $80 million on the first film, and the sequel is on track to make at least 50% more than than original).