Michael Bay To Direct Adaptation Of Book By Embattled 'A Million Little Pieces' Author?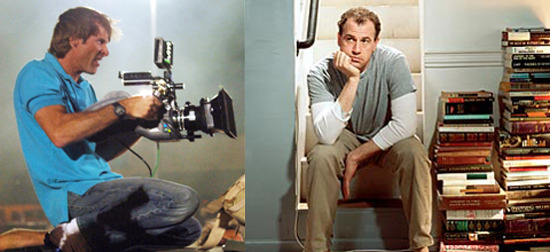 Here's what we know: according to Variety, Dreamworks is working to preemptively buy the rights to I Am Number Four, the first novel in a projected six-book sci-fi series, eyeing Michael Bay to produce and possibly direct. The unpublished novel is being shopped around with the two authors represented by a single pseudonym. But the interest level rose when reports surfaced that one of the writers is James Frey, who rose to fame, then infamy, as the author of the partly fictional 'memoir' A Million Little Pieces.
The Media Decoder blog of the New York Times reports that Frey is the originator of the idea behind the projected series, and that he sought out another writer (as yet unnamed) to help him pen the novels. The blog describes the plot as follows:
The story is about a group of nine children from a planet called Lorien who have been attacked by a hostile race from another planet. The nine children and their guardians evacuate to earth, where three are killed. The protagonist, a Lorien boy named John Smith, hides in Paradise, Ohio, as a human and tries to evade his predators.
Realistically, the big hook here if it is actually Frey is the lingering air of controversy that surrounds him. In the wake of A Million Little Pieces, supposedly a memoir about his recovery from drug addiction but revealed to be partially fabricated, Frey has published a novel called Bright Shiny Morning, about a collection of characters drawn to fulfill their dreams in Los Angeles. It did well enough, but we don't know anything about his facility with science fiction, much less that of his co-author. Regardless, if the story is any good, seeing Dreamworks make a big original sci-fi flick would be a treat.
And what about Bay? Seeing him jump on board this as a producer isn't a stretch, but directing? Sounds like the sort of thing Dreamworks might just mention this weekend to get a little interest going in the project.