Simon Pegg And Nick Frost Say Hello From The Set Of Paul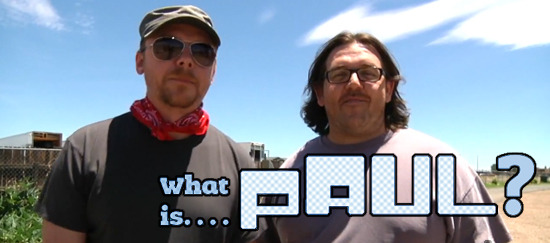 The website for Paul, the film written by and starring Simon Pegg and Nick Frost and directed by Adventureland's Greg Mottola, has gone live. Whatispaul.com already has a handful of image galleries with on-set photos and a couple of video blogs featuring Pegg, Frost and co-stars Kristin Wiig and Joe Lo Truglio. The Jo Lo Truglio bit is probably the best, as he shows how the production is trying to go green. But Pegg and Frost's introduction is a nice way to get into their entertaining world. Both are after the jump.
The film is shooting right now in New Mexico, and also features several other great actors: Bill Hader, Sigourney Weaver, Jason Bateman, Blythe Danner, Jane Lynch and Seth Rogen as the voice of the alien Paul. In addition to following the news on the official website, you can check up on Peggster.net, where Simon Pegg contributes the occasional blog. Me, I'm hoping for an eventual West Side Story-like gang fight between the websites for this movie and Edgar Wright's Scott Pilgrim shoot.
The official synopsis goes like this:
PAUL is a comedy about two sci-fi geeks who embark upon a pilgrimage in a RV to the center of America's UFO heartland: Nevada's infamous Area 51. While in the middle of that desert, the two friends encounter a fugitive alien by the name of Paul. Somewhat reluctantly, they embark upon an adventure that will change not just their lives forever, but also the lives of the friends and enemies they encounter along the way.
Where do all the other cast members fit in? The trio ends up on the run from a government agent named Lorenzo Zoil (Jason Bateman), and become entangled with a young Christian girl (Kristen Wiig) — OK, they sort of kidnap her — and encounter an old "crackpot" woman (supposed by Peter to be Weaver) who claims to been present at Paul's crash landing.