Warner Brothers, Paramount Pass On Soderbergh's Moneyball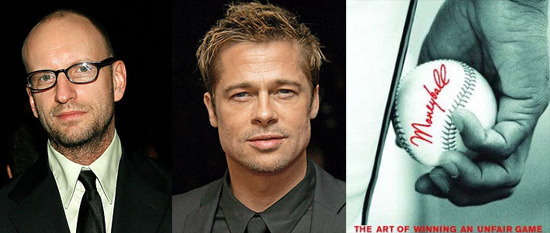 Over the weekend, the biggest news in Hollywood was that Sony chief Amy Pascal had put the brakes on Steven Soderbergh's baseball stats movie Moneyball, which had been set to begin shooting yesterday with Brad Pitt in the lead. Soderbergh was given the option to shop the movie to other studios over the weekend — 'limited turnaround' was the phrase used — and now thanks to the LA Times, we know that Warner Brothers and Paramount both passed. What it means for the movie, after the jump.
After Friday, when Paramount's Film Group President John Lesher was axed, there was little to no chance that the film would find a home there. But Warner Brothers wasn't interested, either. Both studios cited concerns about the nearly $60m budget and the niche appeal. A baseball stats movie is going to have a small audience even in America, and the sport doesn't draw overseas. That counters Brad Pitt's overseas draw which, as broken down by Dave Poland, is substantial. For a basic studio film with Brad Pitt, $60m is nothing. But this really feels like a $30-40m picture that got inflated.
Word remains that Pascal killed the movie after a late rewrite by Soderbergh pushed the film in a direction she wasn't comfortable with. But there have been musings about all sorts of truths behind the scenes — was Pitt, notoriously willing to pull out of films at the last minute, unhappy with the script? Or did Pascal just realize that greenlighting a seriously niche film at this budget, even with Pitt, wasn't the best move?
So what happens now? Sony has spent about $10m already on the film, but could still kill it altogether. Pascal (and Pitt?) could convince Soderbergh to go more mainstream with the movie, which seems unlikely. It could be given to another director, which also doesn't seem like the most likely option. Who'd want to take this on at this point? I'd hate for the film to be dead; as I wrote at the beginning of the month I love the idea of this film being made, and I'd love to see Soderbergh's take. (Even with a reduced budget, and slightly less crazy angle — scratch the plans for an animated character!) But while it may be too early to call the thing dead, it's not looking good now.