Page 3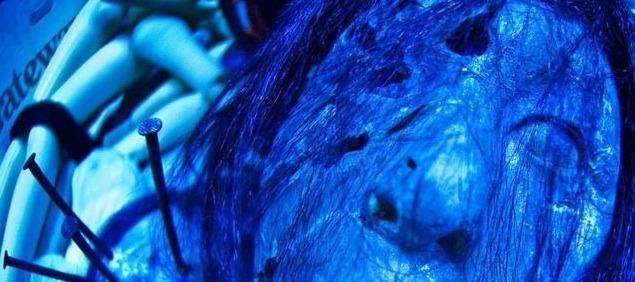 20 mini-stories like this coming up after the break, newslets on films matters of every feather.
The aptly named Horror Movies and Stuff scored the first look at Takashi Shimizu's 3D Shock Labyrinth. The above slice is only an excerpt of one of the images. One which is well worth checking out in full, I'd say... and some of the others are truly mind boggling too. These pictures give me a good feeling about the film.
A tie-in site for Shane Acker's 9 has launched. It focuses on the world around the film and the "mad science" of this off-kilter the stitchpunk dystopia. I'm hoping the story is tight and cleanly told, because 9 already seems to be a home run on all other counts.
The BBC are reporting that Frank Lloyd Wright's Ennis Mansion, as featured in Blade Runner, Buffy and Twin Peaks, is now on the market for $15 million.
Ron English has sculpted a cinematic icon and given her... Mickey Mouse for boobs. Visit Toys-R-Evil to see the whole picture and find out who this icon is (via Cartoon Brew). You just knew I'd have to put boobs on Page 3 sooner or later, didn't you? I am English, after all.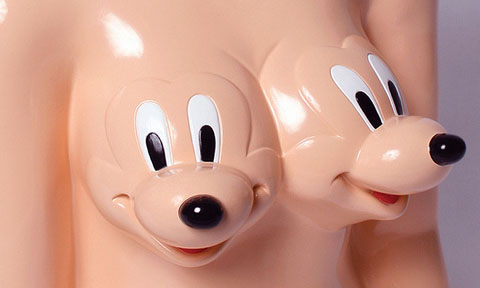 Chill the ditz factor out of Legally Blonde and then put in a load of prescription medicine... and you end up with Pharm Girl? The Hollywood Reporter have announced that Reese Witherspoon is eyeing "an aspirational comedy centering on one woman's odyssey through the drug industry" and tell us that her character "gets a job at a pharma powerhouse but begins to see the underbelly of the industry as she rises through the company's ranks". Glenn Ficarra and John Requa are scripting and may direct.
The IESB think that a schedule clash will prevent Common from playing B A Baraccus in The A-Team.
io9 ran a range of Deadpool concept art, including the one just below. Important to note that was part of the Wolverine development process and not connected to the upcoming Deadpool picture.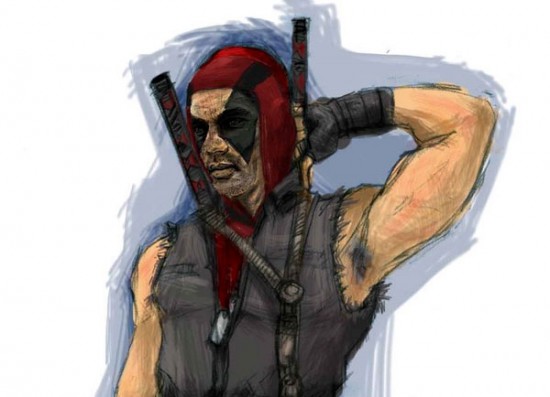 Rolling Stone singled out one of the "Bob Shaye 11", as originally reported in Variety. Perhaps unsurprisingly they were most interested in the cartoon based upon a book by Paul McCartney. High in the Clouds (really Paul? Still having to do the drug-references-in-the-title thing?) is being adapted by Caroline Thompson from McCartney's book about a Squirrel trying to find an animal sanctuary.Marc Forster directed this short film for Swiss International Air Lines and it's more Stay than Quantum of Solace. He's at least keen not to repeat himself.
[flv:http://media2.slashfilm.com/slashfilm/trailers/film_en.flv 550 316]
Comedian/actor/puppet monkey voice Ben Miller's directorial debut will be Huge, a kind of UK version of Funny People. Screen Daily report that such young, hot UK talent as Russel Tovey, Thandie Newton, Noel Clarke and Michelle Ryan are among the cast.
Flying Conchord Jemaine Clement looks set to star in Predicament, a "comedy-crime-caper feature film" that, according to Stuff is an adaptation of "the only remaining unfilmed novel by Hawera author Ronald Hugh Morrieson" and will feature "two voluptuous women in steamy sex scenes". Curious choice of details shared there, Stuff, but thanks anyway.
You can track the production of Gris Grimley's Wounded Embark of the Lovesick Mind on YouTube – the second video is embedded below. Grimley is working with Guillermo del Toro on a stop-motion version of Pinocchio.
Texas Chainsaw massacrist Tobe Hooper is to publish his first novel, and Galley Cat report that "the most compelling element of the book is Tobe's use of his own life experiences in the story" – so, hang on... it won't be in the horror genre? Or will it?
A Meatballs do-over could be on the way, say The Risky Business Blog.
Latino Review have reported that Carey Mulligan will be playing Winnie Gecko, Gordon's daughter in the Wall Street sequel Money Never Sleeps. They're lucky to have her onboard.
The poster for Rob Siegel and Patton Oswalt's Big Fan was premiered over at Cinematical. Here's a fragment of it: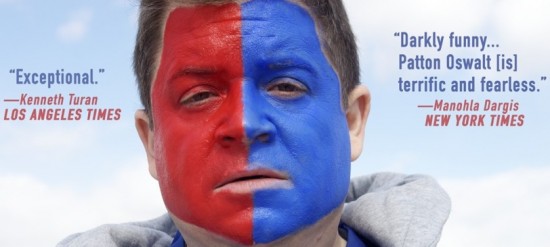 Mike Mitchell is to direct Once Upon a Time, a live action fairy tale mash-up that sees Cinderella, Snow White and Sleeping Beauty team up to hunt down their suspiciously absent spouses, the Brothers Charming. Variety amusingly bothered to point out that these fairy tale femmes are in the public domain and don't belong to Walt Disney. Thanks.
Nina Paley's Sita Sings the Blues has been adapted into an online picture book at Everytales.
Affenheimtheater were worried about reports that Ponyo on the Cliff was getting "tweaked" for US release, so they chased down producer Frank Marshall via Twitter and got the calming news that these tweaks will amount to little more than small changes to the literal translation (essential of course, if you want the film to actually make sense). These adjustments are being executed by ET and Kundun screenwriter Melissa Matheson.
The French invasion has been rained off. Or, at least, filming the scenes of French invasion for Ridley Scott's Robin Hood was postponed by bad weather. The BBC took down some cameras and chatted to the cold, wet and bored extras.