World's Greatest Dad Red Band Movie Trailer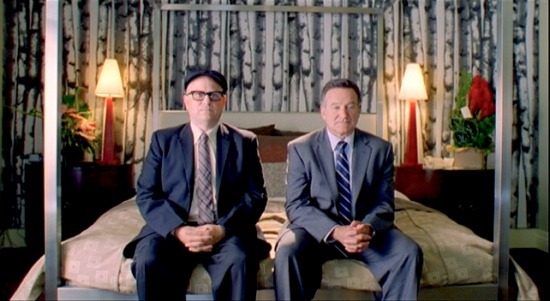 With Father's Day coming up this weekend, Magnolia Pictures has taken the opportunity to release a red band movie trailer for Bob Goldthwait's World's Greatest Dad. I had the wonderful opportunity to catch this film at the 2009 Sundance Film Festival, and by the time I left the theater, I was hurting from laughing so much. You can read my full review here.
This is not your traditional comedy. It's dark. REALLY dark. For example, Goldthwait's 2006 film Sleeping Dogs Lie (originally titled "Stay") was about a relationship that is destroyed when a girlfriend reveals to her boyfriend that she had a past indiscretion (read: blowjob) with a dog. Believe it or not, Goldthwait's 2009 follow-up is at least 10 times more twisted and probably 20 times funnier. Watch the red band movie trailer after the jump, and leave your thoughts in the comments below.
The official plot synopsis follows:
Robin Williams stars as Lance Clayton, a man who has learned to settle. He dreamed of being a rich and famous writer, but has only managed to make it as a high school poetry teacher. His only son Kyle (Daryl Sabara) is an insufferable jackass who won't give his father the time of day. He is dating Claire (Alexie Gilmore), the school's adorable art teacher, but she doesn't want to get serious — or even acknowledge publicly that they are dating.
Then, in the wake of a freak accident, Lance suffers the worst tragedy and greatest opportunity of his life. He is suddenly faced with the possibility of all the fame, fortune and popularity he ever dreamed of, if he can only live with the knowledge of how he got there.
The details have been removed to protect potential spoilers, but basically, its a very f'd up story about a very f'd up situation.
World's Greatest Dad hits theaters on August 21st 2009.