Paramount Launches Augmented Reality Website To Promote Transformers 2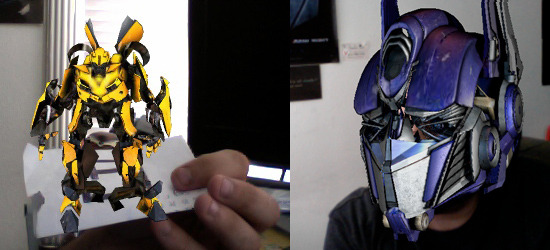 To promote Transformers: Revenge of the Fallen, Paramount Pictures International has created an augmented reality website which allows you to wear a virtual Optimus Prime mask, watch footage from the film with a mini-virtual Bumblebee, and more.
It's pretty easy to set up if you already have a web camera attached to your computer setup (it immediately recognized the isight on my macbook pro). The bumblebee bit requires you to either print out a small symbol on a piece or paper or download the logo to your iPhone. The Optimus Mask requires no extra set-up. The website recognizes your face in the video using some form of facial recognition and virtually inserts the mask, tracking the movements of your head. If you've never seen this kind of augmented reality in action, its fun for a few quick minutes.
'We Are Autobots' has been developed using the original 3D models of Optimus Prime and Bumblebee that appear in the film.  It was developed for PPI by creative marketing agency Picture Production Company (PPC), working in conjunction with augmented reality specialists Total Immersion. Check out a video demo after the jump or head on over to the website WeAreAutobots.com.