Early Buzz: The First Review Of Bruno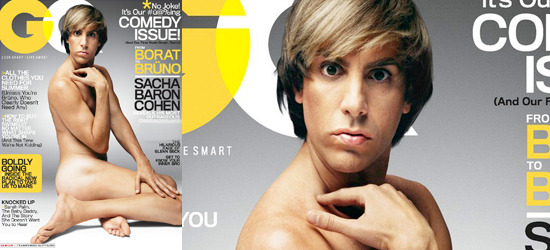 Sacha Baron Cohen's new movie Bruno has its premiere party in Paris last night, and BBC's Jonathan Ross tweeted:
"Was very funny. Not as funny as Borat, but funny."
But lets forget tweets, the first official review has been published by The Sun. The UK paper notes that Hitler gets a mention every five minutes, and that "the pygmy sex scene is one of the most horrific incidents ever committed to celluloid." Here is a short spoiler free excerpt from the review:
"To say Brüno makes uncomfortable viewing is an understatement of Battle of Britain proportions. When I wasn't giggling like a 14-year-old, I was cowering behind my hands." ... "The character does lose a bit of steam towards the end but the musical climax ... is a fitting finale."
Read the full review, which I must warn you: contains spoilers, at thesun.co.uk. Pictured above is Cohen's nude appearance on the cover of GQ Magazine.