This Week In DVD: Friday The 13th, Transformers (Season 1), And More
We may receive a commission on purchases made from links.
This Week in DVD is a column that compiles all the latest info regarding new DVD releases, sales, and exclusive deals from stores including Target, Best Buy and Fry's.Please don't take the commentary on the movies and TV shows too seriously, as they're meant not to be reviews but rather previews that include the general thoughts and ramblings of a twice-committed DVD addict. The categories represent solely the author's intentions towards the DVDs at hand, and are in no way meant to be a reflection on what he thinks other people should rent or buy. So if he ends up putting a movie you like in the "Skip it" section without having seen it, please keep in mind that the time you could spend leaving a spiteful but ultimately futile comment could instead be used for more pleasant things in life. Like buying DVDs.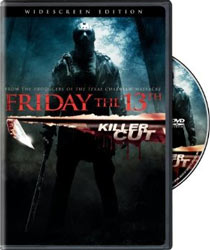 FRIDAY THE 13TH(Available as theatrical and unrated "Killer Cut" edition)
The Friday the 13th series is popular for three very specific reasons: violent deaths, gratuitous nudity, and Jason Voorhees. Sure, there may be additional reasons, but those are the ones that count. So if you're one of the many people who saw this remake in theaters and walked out disappointed, I have to ask you: did you even WATCH any of the previous films? This film delivers exactly what's promised! No, it's definitely not good, but none of these films are. Instead of wasting time criticizing its by-the-numbers story and stock characters (in a Friday the 13th movie? Unheard of!), who not just enjoy it for what it is? An hour and a half of Jason Voorhees laying waste to attractive teenagers. If you're expecting anything more than that, you're watching the wrong movie.
Blu-ray? Yes.Notable Extras:The "Killer Cut" edition includes additional scenes and a Rebirth of Jason Voorhees featurette. The theatrical cut includes no special features.
BEST PRICE
Target
Best Buy
Fry's
$15.99
$16.99
$15.77
Amazon – $15.99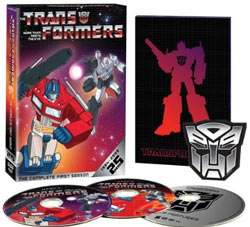 TRANSFORMERS (SEASON 1)
This isn't the first time the original animated Transformers series has found its way to DVD, but this is the first time it's been done right. Whereas the Rhino release may have featured cooler packaging, it also suffered from a wealth of technical errors (due to being taken from a workprint source) and cost an absurd $60. Shout Factory has seen fit to change that. With a much more affordable $20 price tag and all video/audio discrepancies having been restored to their rightful state, this is the DVD Transformers fans should've gotten in the first place. However, if you're interested in picking up the complete series, you may want to wait a little while longer.
Blu-ray? No.Notable Extras: Triplechanger: From Toy To Comic To Screen featurette, printable Transport to Oblivion script, rare PSAs, archival Hasbro toy commercials, and a limited edition Autobot magnet.
BEST PRICE
Target
Best Buy
Fry's
$16.99
$19.99
N/A
Amazon – $19.99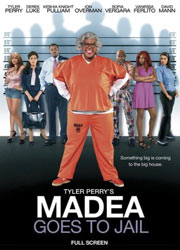 TYLER PERRY'S MADEA GOES TO JAIL
Just when we thought the Tyler Perry craze was starting to meet its end following the steady box office decline of his more recent efforts (such as The Family That Preys and Meet the Browns), here comes Madea Goes to Jail to put his other films' box office intakes to shame. Critically... well, that's another story. But let's be honest: nobody who watches and enjoys the movies from the illustrious Madea series gives a damn about the reviews they receive. (Is this starting to remind anyone of anything?) And if this film's success is any indication, we can assuredly look forward to even further outings with the wacky Madea. Personally, I'm holding out for Madea Goes to Space.
Blu-ray? No.Notable Extras: Featurettes (Madea Is Back, 'Leroy' Law Brown, Looking For The Big House, You Have The Right To Remain Silent!, Bringing In The Heavy Hitters, Madea is Crazy).
BEST PRICE
Target
Best Buy
Fry's
$15.99
Amazon – $15.99
Other noteworthy DVDs available this week...Burn Notice (Season 2) – Family Guy (Vol. 7) – The Seventh Seal (Criterion Collection)

NOTE: Some deals may be in-store only.

Exclusive: Deluxe Edition of Family Guy (Vol. 7) ($29.99) includes Long John Peter poster and fan art collector's booklet.$13.99 – Family Guy (Vol. 1 – 6)$14.99 – 24 (Season 1 – 6)$18.99 – The Office (Season 2 – 4), South Park (Season 11 or 12), Heroes (Season 1), House (Season 4)$24.99 – True Blood (Season 1), Lost (Season 1 – 4)

Exclusive: Save $20 when you buy 2 seasons of Lost on Blu-ray.