Joe Lo Truglio Joins Greg Mottola's Sci-Fi Geek Comedy Paul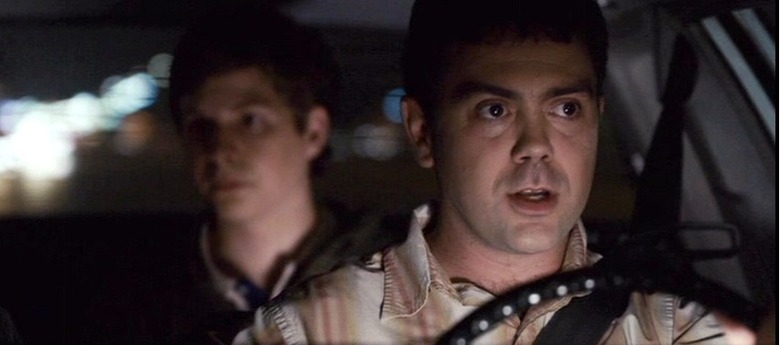 Greg Mottola says that a funny actor from his earlier film SuperBad has joined the already awesome cast of his sci-fi buddy comedy Paul, and I'm pretty sure I know who it is.
So far the film's official cast includes Simon Pegg, Nick Frost, Seth Rogen, Jason Bateman, Sigourney Weaver, and Kristen Wiig. Scripted by Pegg and Frost (the duo from Shaun of the Dead and Hot Fuzz), the story follows two British nerds, fresh off a trip to Comic Con, who decide to go on a road trip to Area 51. They meet an alien named Paul, voiced by Rogen, who asks them to help him escape from the U.S. Government.
Bateman plays a government agent named Lorenzo Zoil who is after Paul. Bill Hader plays one of Lorenzo's two underlings. Since the initial casting announcements, I've been wondering who would be cast opposite Hader. Now we think we have our answer. Mottola responded to the question on Twitter, saying "I'm not at liberty to announce any new cast ... but i can hint: its a very funny actor from superbad."
Who could it be? My first thought was that Rogen (who provides the voice of the title character) might also have a live action role in the film, reuniting with his police partner Hader as a government agent. How cool would that be? Unfortunately, it doesn't look like thats going to happen. Other options would include: Jonah Hill, Michael Cera, Christopher Mintz-Plasse and Mottola regular Martin Starr. But  none of them seem like government agent material, even the bumbling kind.
While doing research, I went back to some of the pre production cast rehearsal photos posted on Simon Pegg's fansite Peggster.net (we linked them a few weeks back) and realized that Joe Lo Truglio was also pictured (seen above) in one of the snapshots. You might remember Joe as Francis the creepy driver in Mottola's Superbad. While this isn't 100% confirmation, we're confident that Truglio is probably the second half of Zoil's task force. He definitely fits the part.