What We Know About The Inevitable Sequel To The Hangover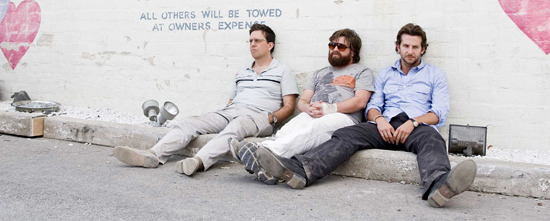 Put aside, for a moment, the notion that a comedy like The Hangover really doesn't need a sequel. The movie has performed spectacularly well, and will likely earn $200m this summer, wo sequel plans that Warner Brothers laid months ago are very likely going to come to fruition. Which means that director Todd Phillips and stars Zach Galifianakis, Ed Helms and Bradley Cooper are already fielding questions about it. What they suggest we can expect from The Hangover 2 is after the jump.
The first bit of 'we're making a sequel!' boilerplate comes from Phillips, by way of MTV. "I'd love to do [a sequel], because I love working with these guys more than anything; this is the most fun I've had on the set of a movie," director Todd Phillips explained. "I have some good ideas floating around of where to take it." More specifically: "all the usual suspects would be back." Yeah, we figured.
Galifianakis was a little more honest and forthcoming to Hollywood.com. (Maybe. This is Galifianakis, after all, and I wouldn't trust anything he says to not be in character in some way.) "I think it's going to be in a foreign country, and I think it has to be in an exotic place," he said.
Take all that with a grain of salt, though, based on a statement from Todd Phillips that EW ran today. "I don't want to put it out there. We'll get ­attacked."
Back to the question of whether a sequel is a good idea. The first was made for about $31m, which has allowed it to be wildly successful. How much more expensive will the follow-up be? Specifically, what price will the three leads command? And when they're intentionally setting down to do it, can Phillips and co-writer Scot Armstrong capture lightning in a bottle again? Given the winding development of the original, I'm pessimistic; I'd rather see Phillips move on and do something more organic. But that's not the way the business works, is it?
Editor's Note: Phillips now tells MTV that they could start shooting the sequel as soon as spring, 2010 and he also confirmed that all of the films central characters will return.