First Look: Michael Moore's Bailout Documentary, Teaser Trailer Out Friday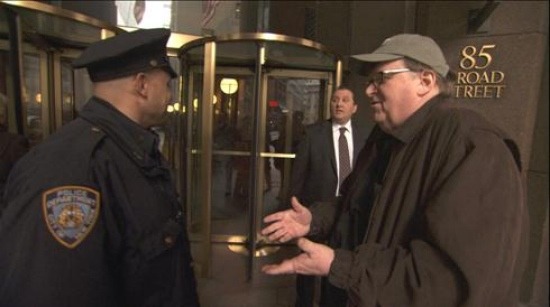 USA Today was given the first photo from Michael Moore's still-yet-to-be-titled documentary about the financial meltdown. The photo shows Moore outside Goldman Sachs headquarters in Manhattan. But now that Wall Street has become the target, don't expect a two hour "economics lesson."
Moore jokes that "it's going to be more like a vampire movie. Instead of the main characters feasting on the blood of their victims, they feast on the money. And they never seem to get enough of it." Moore also says that people will get "a good laugh" out of his film, and will hopefully walk out of the theater saying "Wow, that was something!" Moore jokes, "maybe they also walk out asking the ushers, 'Um, excuse me. Where are the pitchforks and torches?'"
Moore needs to step away from the AVID editing system for a few minutes to come up with a title. I've confirmed that a teaser trailer will be in movie theaters this weekend, but what will they be using for the film's title? I've heard the trailers have just been labled "Michael Moore's New Movie". The film is set to hit theaters on October 2nd 2009.