David Hayter To Adapt Long-Running Zombie Comic Deadworld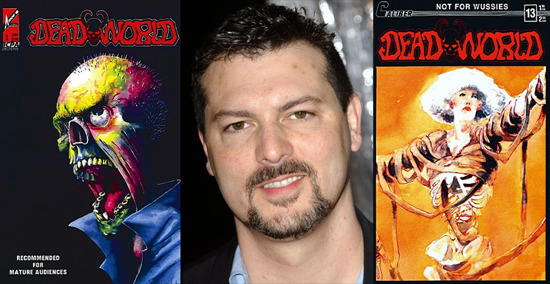 Watchmen scribe and voice of Solid Snake David Hayter will write and produce an adaptation of the twenty-year old zombie comic book series Deadworld, according to Variety. I have to admit I didn't realize the comic was still a going concern until MTV announced in February that Coraline producer Bill Mechanic was working on the project. What the hell is Deadworld, and is it a worthy basis for a film franchise? It's all after the jump.
In the mid-'80s, just as the decade's icons of both horror cinema and heavy metal were really beginning to flower, Deadworld arrived. The series was appealing because it had great, screaming, gooey covers that said 'not for wussies'. (Artist Vince Locke would go on to create his own metal icons when he drew album covers for Cannibal Corpse.) It also featured zombies that were as aware as the humans they consumed. At the time, that was unique. Now, not as much.
Mechanic sees the comic series as a possible franchise, and hasn't just hired Hayter to write and produce. He'll also design the look of the film, with an eye towards "creating cool, frightening but not necessarily gory creatures." The movie version of Deadworld should pick up a few months after an apocalypse has left the world overrun by zombies, led by the Harley-riding King Zombie, who'll be the hero of the film as he wrangles with the few human survivors. Though with all the other zombie projects floating around in development, and existing stuff like Romero's Land of the Dead, it's hard to see what Deadworld really has going for it that is unique enough to base a franchise on.
Bill Mechanic, meanwhile, is evidently still working on Ness, as his adaptation (penned by Ehren Kruger) of the Brian Michael Bendis graphic novel Torso is called. Last good info we had was that Paramount had let the rights to the project lapse, perhaps due to the studio's ongoing disquiet with attached director David Fincher.