Milos Forman Says Movie Pirates Are Communists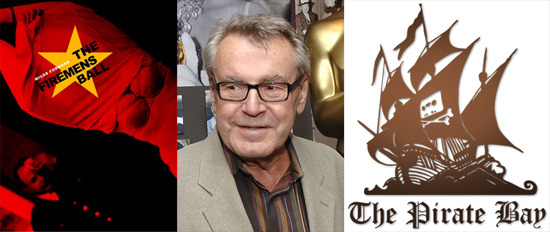 At today's World Copyright Summit, director Milos Forman (One Flew Over The Cukoo's Nest, Amadeus) blasted individuals who pirate movies via the web, saying they aren't engaging in democratic or capitalistic enterprise. What they're "really doing is promoting a communist ideology," he said. Forman was the keynote speaker at the summit, which (as the name implies) focuses on protecting creators' rights. Piracy was a huge topic at the event, and Forman blasted the ethos behind it. "Pirates also think everything on the Internet should be free," he said. "But that is like going into a department store or supermarket, and just because you got a shopping basket for free, everything in the basket should be free, too." OK, that's boilerplate (and quite legit) anti-piracy screed. It's the Communism comment (and the opportunity it affords to mention some of Forman's rarely discussed older movies) that is interesting.
After his breakthrough film Loves of a Blonde, Forman made The Fireman's Ball. It was a film born out of creative desperation — he and his screenwriters couldn't come up with ideas and, as the story goes, actually went to a fireman's ball in the small Czech town where they'd gone to write. They ended up making a short feature that drew on their experience, but which was also accused of having layers of political meaning. At the ball in the film, a lottery is undermined by the theft of nearly every prize; girls press-ganged into a beauty contest all bail and a fat woman crowns herself. When a fire actually breaks out, the party turns to watch the drunk firemen at work, who limply throw snow on the flames.
It's not difficult to see criticism of the communist politics that had held the Czech nation since 1948 in the bumbling, ineffectual and even criminal events of the film. Forman denies any allegory, but few ever believed him. The film was shelved and banned. So when Forman accuses anyone of a Communist idealogy, it is a line delivered with venom and deep meaning.
Loves of a Blonde and The Fireman's Ball are both available, and highly recommended entries in the Criterion Collection.
[via Variety]