It Might Get Loud Movie Trailer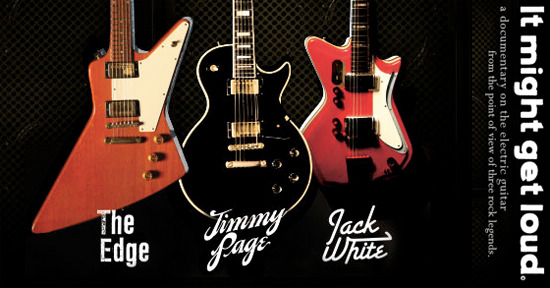 I'm a child of the 20th century, so the electric guitar, an instrument with a vast range of expressive potential, is the voice of my life. Whether it's the simple, rhythmic lines of John Lee Hooker or the dense, almost formless drones of Sunn O))), the guitar is the thing. So It Might Get Loud, the documentary that explores the history of the electric guitar through interviews with and performances by Jimmy Page, Jack White and The Edge, is something I very much want to see. In August, Sony Pictures Classics will oblige. For now, there's a trailer.
The core of the movie is a sit-down between Page, White and the Edge. They talk, compare techniques and play together. I'm a mediocre musician at best, but even in my very limited capacity I've felt the crackling energy that can erupt between like-minded musicians when they play together. I'm hoping to see that on screen. Jack White mentions wanting to steal the other guys' techniques, and jokingly predicts a fistfight, but it's not a stretch to expect both conflict and harmony from the three men playing together. And while none of these three players are who I would choose as my own guitar pantheon, there's something very appropriate about selecting them as the three generations to represent the instrument. Page, the experienced master. White, the rootsy iconoclast. The Edge, a once traditional player who has embraced electronic alteration.
Directed by Davis Guggenheim (An Inconvenient Truth, episodes of Deadwood and 24), the film did quite well at Toronto last year and at this year's Sundance. Look for the film beginning on August 14.