Scream 4 Is Not A Remake, But The First Chapter Of A New Trilogy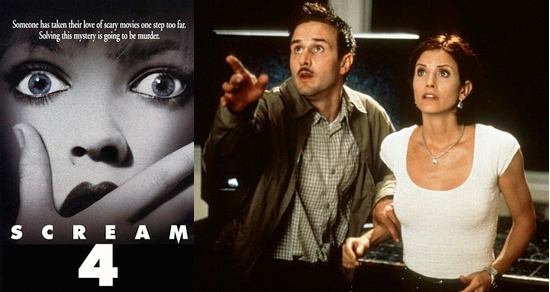 Last week it was reported that Courtney Cox Arquette and David Arquette have been approached about reprising their roles as Gale Weathers and Dwight "Dewey" Riley for a fourth Scream movie. It was originally rumored that the film would be a complete reboot, but with returning characters, it seems more like a proper sequel.We now have further clarification from screenwriter Kevin Williamson and director Wes Craven.
Someone claiming to be Williamson (not confirmed, but appears to be legit) cleared up the confusion on Twitter: "It is not a remake. Scream 4. The first chapter of a new trilogy." And now director/producer Wes Craven clears up the details in an interview with Digital Spy.
Bob Weinstein (The Weinstein Company co-chairman) has talked to me, he's interested in me directing it. I had a brief conversation with Kevin [Williamson], I know that Kevin is writing. What I've said to Bob is I'm not closed to it, I'm not open to it, I'll be perfectly happy to read a script and tell him what I think. That's where it's at and I'm not expecting a script until August. I don't know what the premise is or anything.
Craven also echos something Williamson stated on Twitter, "Remember, it's not just Scream 4, it's Scream 5 and 6.' So I guess he has a trilogy in mind." And the horror director also confirmed Cox and Arquette's involvement, but claims that "everyone else will be new." So don't expect series star Neve Campbell to return as Sidney Prescott.