First Look: James Franco In Howl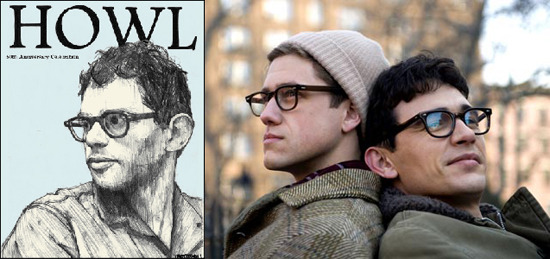 This is the sort of story that we'd often relegate to Page 2, but I'm interested enough in Howl, the upcoming picture about poet Allen Ginsberg, that I want to take the chance to highlight the first photo of James Franco in character as Ginsberg as published by EW. I've been following Franco's Ledger-like emergence as a serious actor with great interest, and this could be a key project in his career. Written and directed by the team of Rob Epstein and Jeffrey Friedman (who also made doc The Celluloid Closet over a decade ago) the film focuses on the publication of the poem Howl and the landmark obscenity trial that ensued. Sharing the frame with Franco there is Aaron Tveit, playing his longtime partner Peter Orlovsky; compare this shot to actual photos of Ginsberg and Orlovsky after the jump.
Howl, originally intended as a performance piece when Ginsberg composed it in 1955, was published by City Lights Books in San Francisco. That publication led directly to an obscenity trial targeting City Lights owner Lawrence Ferlinghetti (played by Andrew Rogers) and Ginsberg. The poem is one of the cornerstones of the Beat movement that also included work by Jack Kerouac (On the Road) and William S. Burroughs (Exterminator, Naked Lunch) but pinning down exactly what Howl is can be difficult. It begins with frequently quoted lines that do more to sum up the intent and tone than I could do in the same space:
I saw the best minds of my generation destroyed by madness, starving hysterical naked,
dragging themselves through the negro streets at dawn looking for an angry fix
Ginsberg chronicles what he sees as the conflict between artists and outcasts — the 'best minds' he mentions — and the interests and urges of civilized, industrial society. It is often drug-fueled and explicitly sexual. But even after years of reference, parody and appropriation by other works, Howl remains a key piece of American literature. Bringing it to a new audience through Franco is a worthy goal.
Comparing the promo image to actual photos shows that, yeah, Franco is a lot better looking than the real Ginsberg (and he'll probably never grow up to defend NAMBLA, thankfully) but the movie is evidently shooting for at least authenticity of appearance. Gus Van Sant is executive producing the film, which also features Mary-Louise Parker, Jeff Daniels, David Strathairn, Jon Hamm and Treat Williams. Howl is in production now and should be released next year; no distributor is on board yet.