Quentin Tarantino And Brad Pitt To Adapt Swedish Book Trilogy?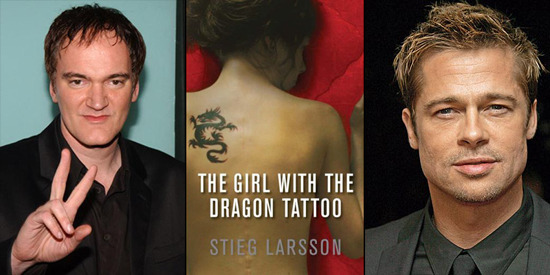 Now that Quentin Tarantino and Brad Pitt have Inglourious Basterds more or less behind them (Tarantino has test-screened the film in the US and is making additional edits now) will the pair work together again? Anne Thompson suggests that they might. She's perpetuating a report found in the Times of London that Tarantino and Pitt are interested in the Millennium Trilogy, three hugely popular books by Swedish author Stieg Larsson.
The first novel, The Girl With The Dragon Tattoo (originally called Män som hatar kvinnor, which translates to Men Who Hate Women) is about Mikael Blomkvist, a magazine publisher (the mag is called Millennium, hence the trilogy title) who is brought into a cold case investigation involving a missing heiress. Working with a Lisbeth Salander, a punkish hacker girl, he finds a classic 'locked room' mystery, where the suspects are all gathered together on an island estate.
The book has already spawned a Swedish film which did quite well in Scandinavian release this year. If the project happens and Pitt appears in it (rather than just producing, which would be an intriguing option) he would likely play Blomkvist. But Salander is the real star of the novel. That puts the story in consistent Tarantino territory, as he frequently features strong female roles.
But there's behind the scenes friction. Larsson died in 2004, and his novels have become massively popular in Europe in the wake of his passing. But that has also created tension and problems. Larsson had lived with his girlfriend Eva Gabrielsson for 30 years, but since they were never married, his estate has passed instead to his estranged father and brother. Gabrielsson still has possession of a laptop containing an unpublished fourth Millennium novel, and possibly outlines for several other novels as well. The Larssons are negotiating rights sales for a variety of Millennium adaptations and offshoots, and one comment to the Times stands out.
We are inundated with requests for permission to make plays and cartoon strips out of Millennium...Quentin Tarantino and Brad Pitt would like to buy the rights for a remake of the film. We want [Eva Gabrielsson's] opinion.
All of which sounds thin and wildly speculative. In the wake of interest around Inglourious Basterds it's no surprise that Tarantino would circle potential follow-ups, but he's likely circling a lot of them. This is just one quote about one potential interest. So I wouldn't get too excited just yet, especially with the family contention that could cause trouble for any big rights sale.