Puss In Boots Will Feature All New Characters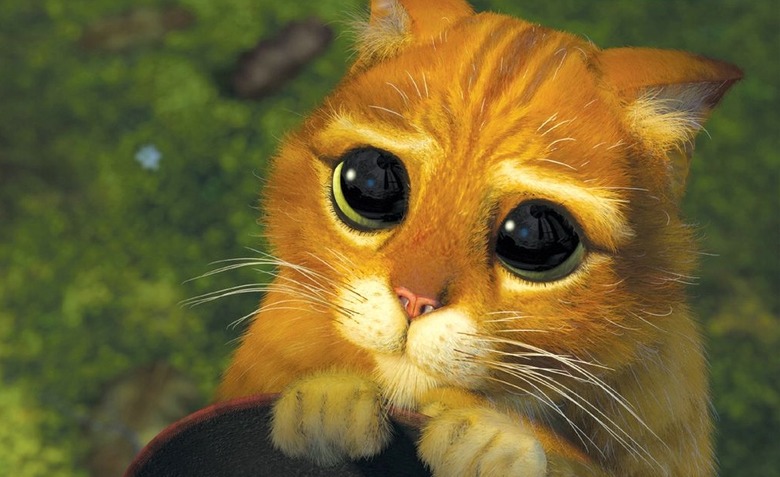 When DreamWorks Animation updated their 2009-2012 line-up a couple weeks back, it was revealed that the Puss in Boots spin-off movie would be an origin story. The official synopsis reads:
"Swords will cross and hearts will be broken in this adventure starring one of the most beloved characters of the Shrek universe – Puss In Boots (Antonio Banderas). It's a swashbuckling ride through Puss's early years as he teams with mastermind Humpty Dumpty and the street-savvy Kitty (Salma Hayek) to steal the famed Goose that lays the Golden Eggs."
We didn't expect Shrek, Fiona or Donkey to appear (after all — it's an origin story, before they met), but screenwriter David H Steinberg confirms to Moviehole that the film will not feature any returning characters from the previous Shrek films at all, with the exception of Puss, of course!
"It doesn't overlap with Shrek at all. Partly that was done to tell an original Puss story, but partly because we didn't know what Shrek 4 (and now Shrek 5) were going to do with the characters and we couldn't write conflicting storylines."
So at the end of the day, the spin-off might turn out to be more original than first expected. Dreamworks has decided not to rely on franchise cameos, as not to hurt the Shrek sequels currently in production. Now if only the Katzenberg-directed aniamtion studio would forego the cheesy pop culture references for a story that is worth more than a few pennies. Directed by Shrek the Third helmer Chris Smith, Puss in Boots is scheduled to hit theaters on March 20th 2012.