Movie Review: Land Of The Lost Rocks (Peter Travers Can Suck It!)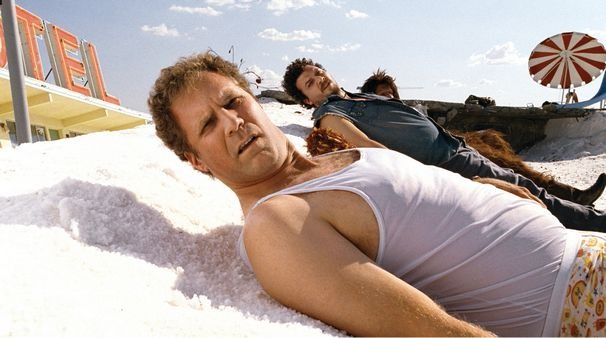 It was a little before the half-way mark to Land of the Lost when a little kid started crying in the theater as the Sleestaks opened their reptilian beaks, revealing row after row of neat, razor-sharp teeth. We hadn't even reached the scene in which Danny McBride's misogynist, would-be casino maven, Will Stanton, stared directly into the camera while sitting in a swimming pool, tripping his fucking mind out on "narcotic" alien fruit-juice. The swimming pool was randomly parked on an inter-dimensional white sand desert sprinkled with a Viking ship, a broken-down Cessna, and a meta neon sign that blankly spells "Motel." And as if exiting from Jeff Goldblum's ear canal during a Jurassic Park hallucination, dinosaurs big and small were roaming the diverse terrain beyond. Land of the Lost is chockful of original, PG-13-hazing moments. And if you're a parent and bring your kids to see it, you deserve a cool sticker.
In a recent blurb, Will Ferrell's creative partner, Step Brothers director, and buddy, Adam McKay, said of him: "When you look at some of the characters Will creates, it's bizarre that he's a huge movie star." As Rick Marshall, an aloof scientist with a serious munchie-craze who dances between paleontology factoids and summer-vacation daydreaming, Ferrell fully embodies this statement. At this point in his career, even after hitting Broadway paydirt with the scathing You're Welcome America, Ferrell remains a curious enigma in Hollywood; he's arguably its biggest comedy star, but viewers seem increasingly perplexed by what makes him tick. Watching him on screen, he constantly blurs the line between what is and what is not funny until all that remains is him standing there in a pose of mock-victory; and oft he stares back at us with the oddest of smirks.
Watching Ferrell, McBride, and an amazingly objectified Anna Friel stumble around in this Land of Random, it's hard not to place yourself inside the insecure mind of a 2009 movie executive who's thinking only in dollar-signs. Indeed, many of the early reviews for LoTL seem written from a business-minded perspective, and I find it annoying and remiss. It's a fair question though: what exactly is the point of remaking Land of the Lost and who is the audience? As the Vulture blog postulates, LoTL seems to exist merely because Will Ferrell hearts, like, really hearts, Sleestaks. That's it. But it's reason enough for me to be forever grateful: Ferrell's man-love for this slow-moving, silent race of ridiculous reptilians is contagious. I've been drinking Miller Lites and lapping up the Kroffts' original, batshit episodes on Hulu, Chiller, and the Sci-Fi Channel all weekend long. To me, this is what the season and the movie itself is all about—eating huge amounts of snow crab legs on vacation and laughing your ass off to Seals and Crofts' "Summer Breeze." Not analyzing box office receipts.
Similar to watching the original series 30 years later, LoTL is an entertainment that is incredibly self-aware. The conventions and beats of the adventure-movie formula are treated like a giant rec-room for realizing surreal ideas and kooky imagery. Just for the hell of it. Want to fight a T.Rex with a tourist-grade bottle rocket? Or slide down a T.Rex's tail a la Fred Flintstone with the thoughtless ease of an avatar? Want to rationalize stuffing a donut with M&M's for breakfast? Now's the time. I'm not sure how many people think giant multi-colored, prophetic holograms are hilarious bliss, or possess an insatiable fetish for cheesy motherboards made from plastic crystals straight out of 1980s fantasy films. But I do.
Again, the trailers for Land of the Lost do nothing to convey how great and magical some of the special effects are;  the "timeless" structures created by production designer, Bo Welch, are charming and obviously expensive, yet purposely radiate with the playground cool of Epic Fail movie sets. Some of the sets could easily serve as an eccentric billionaire's jungle-themed putt-putt course, or belong to an impossibly ambitious remake of House II: The Second Story. The cinematography by Dion Beebe (Collateral, Chicago) has a beach-like crispness that makes action sequences play like hyper-vivid mirages; it's a cool split from the original series' submersion in paranoid, wake-and-bake haze. And director Brad Silberling surprised me by not whoring-out the story to dino-effects and empty poop jokes—exactly what one feared from the trailer and PG-13 rating. He's up for and committed to the movie's kamikaze wackiness. Ferrell and team are on an endless hunt for a filthy one-liner and there's not much of a sugar rush to please the kiddies courtesy of Silberling.
Some of the humor not aided by special effects is crass. The spirit of the film—the cheerleader for its bawdy humor—is an unconvincing ape-man named Chak-Ka (SNL writer Jorma Taccone). Chak-Ka is literally a hirsute prince in this Land, and he's high enough on the evolutionary ladder to play dumb in order to cop countless feels on Friel and Ferrell alike. McBride gets off a joke about "wetness" in the film's first minutes that is a tell-tale sign that our cinematic trip will be disturbing. I heard parents groan. Another sign of badboy mischief: Ben Best (Clegg on Eastbound and Down) makes a squint-worthy cameo. Near the end of the film, Best is passed out drunk in a plastic lizard-suit in the real world awaiting McBride's return from a Land where real lizard suits are shed during pungent sexual intercourse.
There are bizarre, politically-incorrect parallels between McBride's Will and an advanced Altrusian Sleestak named Enik. Will is torn over whether to abandon this exciting, hedonistic fantasy land. In our modern day world, Will is aware that he's an outdated plebe alphamale. One of his jokes made me do a double-take: When Will first encounters Enik, his instinctive reaction is to stomp on his head simply because Enik is a golden Sleestak and thus "different" from his green brethren. Shudder. But Enik's villainous motives are fueled by a similar existential anger and frustration. Enik desperately aspires to leave the same world (and arrested intellectual plane) that Will savors. And of course, by having a supporting character named Will (faithful to the TV show) in a Will Ferrell movie, there's the notion that, as a guy and as an actor, Ferrell aspires to relax atop both of these "planes" as well.
Viewers can choose to fall down a rabbit-hole glimmering in this type of pot-psychology, or choose to soak up the visuals and jokes and leave the pot-psychology alone until a fourth viewing. But if you tilt your head ever so slightly, a scene here can be interpreted as George W. Bush being dared to French-kiss a male missing-link by America's very own Kenny Powers. Alongside Sam Raimi's way-way-underseen Drag Me to Hell (also from Universal), Land of the Lost is one of the coolest, most subversive PG-13 movies to knock me over in the last 10 years. And like Will Ferrell tells Matt Lauer in the film: square critics giving LoTL one-star reviews like Rolling Stone's Peter Travers "can suck it!"
/Film Rating: 8.0 out of 10Hunter Stephenson can be reached at h.attila[at]gmail.com and on Twitter. He recommends staying until after the end credits to glimpse an awesome sequel that will be made in a parallel universe.