Brian Blessed Cast As Odin In Thor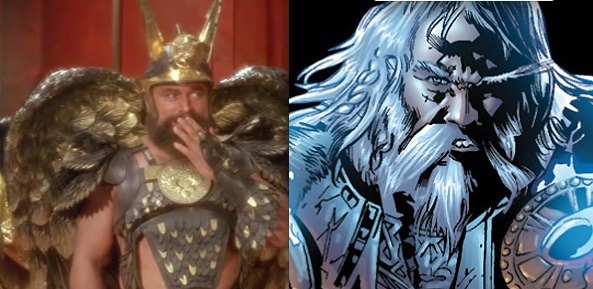 According to Rich Johnston's new site Bleeding Cool, Brian Blessed has been cast as Odin, All-Father of Valhalla in Kenneth Branagh's Thor. Frankly, I'm very happy with this news. The only way I could be happier is if somebody could get me confirmation that Blessed would record a commentary track for the film – the one he did for Flash Gordon is a real favorite in my household. I sincerely hope Max von Sydow has heard it.
Blessed is these days more famous for his general all round demeanor, his mountaineering exploits (and mountainous stature) and his BOOMING voice than any specific role, though his Flash Gordon role as Prince Vultan would probably be his most popular turn. That gave rise to his "Gordon's Alive?" catchphrase which, apparently, he still yells out in his gruff-jolly way for fans whenever asked.
I once heard a stand up comedian do a long routine about sleeping with Blessed's daughter, but I won't repeat any of it here or even name the act, not after all of that Russel Brand/Jonathan Ross/Andrew Sachs nonsense. Suffice to say, Blessed's booming voice came into play in a rather amusing way.
I'm expecting to see several other frequent collaborators of Branagh to come rolling up in the Thor picture, from Richard Briers to Stephen Fry. If any of you know the comic book well enough you might like to tip me off as to what parts could suit them. Are they likely to get only newly minted parts or day player pieces, or are there some key parts for any of them?
The appeal to me with this Thor project is Branagh, really. I don't think the comic book really means that much to me, though several of Branagh's previous films, from Dead Again to Hamlet, I've liked a great deal. Peter's Friends, however... that's a different story. That one, I try to forget.
Bleeding Cool is a comics blog though, Hollywood being what it is, I'm not surprised Johnston had a film related story in only his second day of operations. I know that he actually worked with Blessed in his "other life" as a writer of radio ads, so I'm trusting this story 100%.