The Tonight Show With Conan O'Brien Debut: What Did You Think?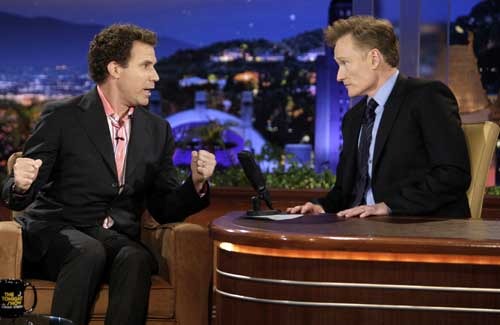 The debut of The Tonight Show with Conan O'Brien ended just minutes ago, with Will Ferrell as the sole guest (nice entrance), music by Pearl Jam (good choice for the youngs?), and Andy Richter adding a welcome, if plentiful, laugh track. Also: myriad Choco Taco jokes. The show began with Conan—his red wave on high—introducing a pre-taped segment in which he sprinted in a suit from New York to his new HQ in L.A. on the Universal lot. His soundtrack? Cheap Trick's "Surrender."
For the most part, Conan played it safe with the transition. There was a bit of his signature hyper-giddiness schtick per the takeover, but no big surprises or real inventiveness. His monologue even contained a flat L.A. Clippers joke that too closely mirrored one (of thousands) that Jay Leno phoned in during his womp-womp send-off last week. (Though Leno's final monologue tribute to Rodney Dangerfield was respectable.) For me the two highlights tonight were the new set, which looks huge on the tube and incredibly classy in high-def, and knowing that The Chin is finally gone...albeit still on NBC in an earlier slot.
Unlike Ferrell, who proclaimed that Conan's success was a "crapshoot," we think he'll do fine. What did you think? How do you foresee Conan, his hair, Andy and Max doing in the months and years ahead?
Editor's Note: I've included a video of the show's opening after the jump.