Kevin Pollak Joins Kevin Smith's A Couple Of Dicks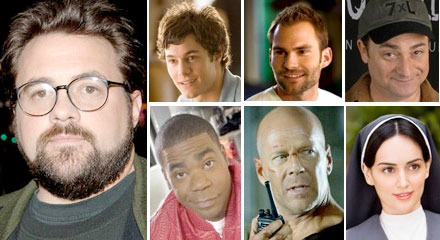 Comedian/Actor Kevin Pollak revealed on Twitter that he has been offered a role in Kevin Smith's upcoming R-Rated buddy cop comedy A Couple of Dicks. Pollack tweeted:
"Offer from @ThatKevinSmith to join ol' pal B. Willis & crazy Tracy Morgan in his Couple of Dicks has me smiling huge. See ya in nyc fellas."
No word on which character Pollack would play. Three big male roles that haven't been cast/announced include the rich father of Willis' daughter's fiance, the sports memorabilia-obsessed gangster and a memorabilia store owner.  Smith just wrapped Day one of filming and tweeted the following:
"Wrapped Day One on A COUPLE OF DICKS without being one or sucking one. Bruce & Tracy are so good together, you'd think this was the sequel."
Written by Robb and Marc Cullen, and featured on the 2008 Black List (a Hollywood insider list of the best unproduced screenplays of the year), The film stars Tracy Mogan and Bruce Willis as two veteran LAPD detectives who attempt to track down a stolen, mint-condition, 1952 baseball card, get tangled with a sports memorabilia-obsessed gangster. Reguera plays a Mexican beauty named Gabriela (Ana de la Reguera), who is rescued by the duo and might hold the key to millions in laundered drug money. Adam Bordy and Sean William Scott also have roles in the film. A Couple of Dicks is tentatively scheduled to hit theaters on February 26th 2010.