Nicole Kidman Out, Lucy Punch In - Woody Allen's Got A New Hooker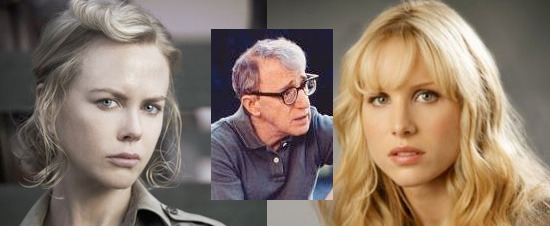 Woody Allen is working on his new movie to be filmed in London this Summer, and the cast he's planned includes Josh Brolin, Anthony Hopkins, Antonio Banderas, Naomi Watts and, until recently, also featured Nicole Kidman. She recently bowed out, however, when the schedule for Rabbit Hole was set and clashed with Woody's plan. Rabbit Hole took precedence as Kidman is not just acting in it, she's also producing. As a result, Woody Allen has now replaced Ms. Kidman and his choice is a fascinating one. Against all of my intuition, he's gone for the British actress Lucy Punch, who you probably know best from CBS sitcom The Class or Edgar Wright's Hot Fuzz.
I don't think Kidman can be blamed for her choice – but what an enviable decision. Each of the two films offered a great writer (Allen or David Lindsay Abaire) and great co-star (see above for the Allen, or Aaron Eckhart).
Allen is always very secretive about his in-development pictures, and there's rarely any official details of plot or even title until the film is well into production, if not post. Variety has a source, however, who claims that the role Kidman ditched and Punch has taken up is that of a "high class hooker". They compare the character to Ashley Dupre, the prostitute at the centre of the Elliot Spitzer 'Emperor Club VIP' scandal.
Punch's role in Hot Fuzz was that of Eve Draper, the am-dram actress who played Juliet and the secret lover of Martin Blower – who, of course, played her Romeo. She had a very memorable laugh, I think you'll agree. You may not have noticed, but Punch has since collaborated with Edgar Wright one more time – in his Don't! trailer for the Grindhouse package. Now... when's that Grindhouse special edition coming out so we can take another good look at that trailer?
We'll next see Ms. Punch in Young Americans, alongside Anna Faris, and A Good Old Fashion Orgy with Martin Starr. Only time will tell how accurately descriptive those titles prove.