Aubrey Plaza In Scott Pilgrim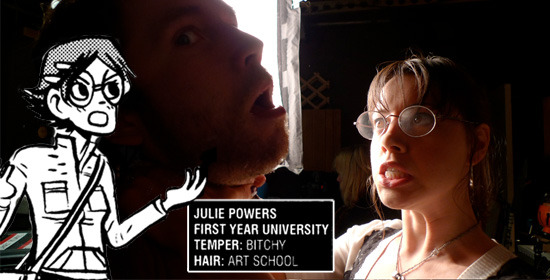 Edgar Wright has finally released a first real look at Aubrey Plaza as Julie Powers in Scott Pilgrim vs. The World. Some of you might remember that we posted a half concealed photo of her giving the middle finger in March. In the film adaptation, Plaza (seen above) plays bitchy Julie Powers, the obnoxious on-off-on-again girlfriend of Stephen Stills, the lead singer and guitarist of Scott's band, Sex Bob-omb, and Stacey Pilgrim's (Anna Kendrick) coffee shop co-worker.
You might not know who Plaza is right now, but you will soon enough. The Upright Citizen's Brigade comic was featured in the Sundance comedy hit Mystery Team and has co-starring roles in Judd Apatow's Funny People, Scott Pilgrim, and Parks and Rec.