See Ryan Reynolds As Captain Excellent In Paper Man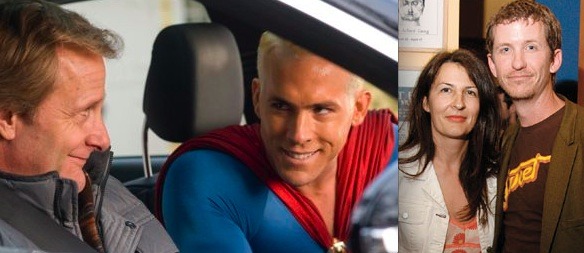 Indiewire report that Michelle and Kieran Mulroney's Paper Man will be receiving the opening night Gala screening of the LA Film Festival. The Mulroneys, in case you had forgotten, were the screenwriters behind the JLA film, Justice League: Mortal. This film, their directorial debut, happens to be a kind of superhero movie too. In the picture at the head of this post you can see Ryan Reynolds as Captain Excellent, alonsgide Jeff Daniels as Richard Dunn, the writer who created him. The film also stars Emma Stone and Lisa Kudrow.
While I'm not entirely sure we'll ever see the Justice Leagure movie, the curious will possibly divine something of the Mulroney's attitude to costumed heroes. It could prove to be grist for wistful "What if..." games.
Or, on the other hand, we could all just appreciate it for what it is. On current evidence, that might be something pretty nice. I've got to admit that I never finished the script and there's not been a trailer yet, but the Mulroneys sure talk the talk.
Here's the official synopsis:
A once-successful novelist, constantly attended by the imaginary superhero who has been his pal since he was a kid, struggles to recover what made him great while watching his marriage fail. He derives some inspiration from his platonic friendship with a Cape Cod high-school girl.
The screenplay was originally developed at the Sundance Lab. When they hosted a table read (with Jenna Malone and Patrick Warburton) the description offered added a feathered friend into the mix:
A frustrated writer spends a lonely winter on Cape Cod, where he is forced to choose between a world-weary superhero, an extinct bird, and a 16-year-old local girl in this coming-of-middle-age story.
Paper Man joins the subgenre of imaginary friend films that includes True Romance, Harvey, Donnie Darko and Looking For Eric, to name just a handful. Varied bunch, but I have a soft spot for many of them.
As I understand it, Paul Giamatti was attached to star in the role of Richard Dunn for quite some time. Why he dropped out and Daniels stepped in, I don't know. Will I miss Giamatti? Sure. Do I welcome Daniels? Yes, I do. Tricky one. Conflicting feelings. Emma Stone is wonderful though, and I'm keen to see here do something a bit less comedy driven.