Adam Brody And Seann William Scott Join Kevin Smith's A Couple Of Dicks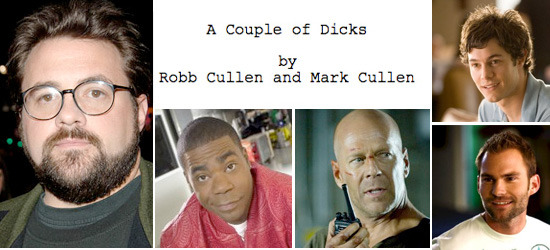 Adam Brody and Seann William Scott have joined the cast of Kevin Smith's A Couple of Dicks. The R-Rated buddy cop comedy stars Tracy Mogan and Bruce Willis as two veteran LAPD detectives who attempt to track down a stolen, mint-condition, 1952 baseball card, get tangled with a sports memorabilia-obsessed gangster and rescue a Mexican beauty who might hold the key to millions in laundered drug money. I've read an earlier draft of the script, and it's funny in a very different way than any of Smith's previous films.
Scott plays a thief known as "the Shit Bandit," as he is notorious for leaving a surprise trademark behind in the bathroom after robbing a house. Brody plays an "abrasive detective" who is not happy to be working with Willis and Morgan. Scott appeared briefly in Smith's Jay and Silent Bob Strike Back. Written by Robb and Marc Cullen, and featured on the 2008 Black List (a Hollywood insider list of the best unproduced screenplays of the year), A Couple of Dicks is tentatively scheduled to hit theaters on February 26th 2010.
source: THR