Rumor: Wentworth Miller In Bioshock Movie?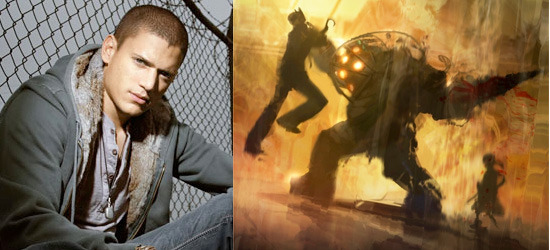 Could Prison Break star Wentworth Miller be cast in the big screen adaptation of Bioshock? Last we heard, the Universal decided to put the Gore Verbinski-directed video game movie on hold as they explored options to cut down the film's ballooning budget.
Miller commented on his twitter account that "Prison Break may be ending, but I've got things in the works. Hint...one word: Bioshock." Miller could have meant that he'll now have time to play Bioshock, but I somehow doubt that was what he meant. Maybe its more wishful thinking — that he would love to be in a Bioshock movie. Or maybe Miller has a voice part in the upcoming Bioshock sequel?  I'm not even sure this is the real Wentworth Miller's Twitter account, but the guys at Bloody Disgusting seem to think so. Basically what I'm saying is, this is all highly speculative.
Since it's release in August, Hollywood has eyeing a big screen adaptation of this popular first-person shooter. Praised for its morality-based storyline, immersive environment and Ayn Rand-inspired dystopian setting, the game has received overwhelmingly positive reviews, and ranks as the thirteenth best video game on Game Rankings.
Set in an alternative history 1960, BioShock follows the story of a plane crash survivor named Jack, who must explore the underwater Objectivist-dystopian city of Rapture, and survive attacks by the mutated beings and mechanical drones that populate it. Jack is drawn into a power struggle during which he discovers that his will is not as free as he'd thought. Aviator screenwriter John Logan penned the script.
Bioshock fan art by skybolt