Early Buzz And New Clip: The Imaginarium Of Dr. Parnassus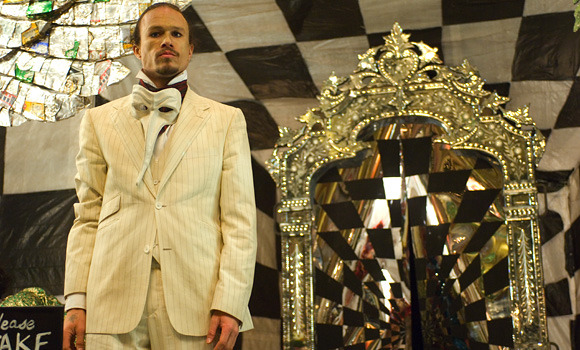 Terry Gilliam's The Imaginarium of Dr. Parnassus has finally premiered in Cannes. Reviews have been surfacing all day and most of them, unsurprisingly, focus on two key factors – that this film contains Heath Ledger's final performance and that a Gilliam film is somehow difficult or appeals only to a few. I can't argue with the first part, but the second doesn't add up.
Below the break you can see a scene from the film that clocks in at just under a minute. It has been circulated as a promotional piece for the Cannes fest by Canal Plus and as such has French subtitles 'burnt in'. The short clip we saw last week comes from this longer piece, so you can now get more context, more Ledger and more of Gilliam's magic.
I've seen this clip a good few times now and can't wait to see it uncropped. Gilliam's compositions are always wonderful and it seems somewhat ridiculous to chop them up like this.
[flv:http://bitcast-a.bitgravity.com/slashfilm/trailers/imaginariumclip.flv 320 240]
Here's a sampling of quotes from reviews of the film:
The first big question about Terry Gilliam's The Imaginarium of Doctor Parnassus involves how the filmmaker managed to complete the film when his star Heath Ledger died in the middle of shooting. The answer is with great imagination and skill.
Especially considering the trauma and difficulties stemming from Heath Ledger's death during production and the fact that Terry Gilliam hadn't directed a good picture in more than a decade, the helmer has made a pretty good thing out of a very bad situation in The Imaginarium of Doctor Parnassus.
Pic's second half is resplendent with ever-changing CGI backdrops for the imaginary world the doctor has created with his gift. "Original designers and art directors" Dave Warren and Gilliam no doubt played a dominant role in conceiving the film's look, which is ornate without being a riot of detail, but production designer Anastasia Masaro, visual effects supervisors John Paul Docherty and Richard Bain and costume designer Monique Prudhomme certainly made major contributions as well. Other production values are strong across the board
Plummer enacts the oldest man in the world with verve, and Troyer, Waits and Cole nicely hold necessarily caricatured work in check.
This is the purest expression of Gilliam's distinctive sensibility in a long while, complete with outbursts of Pythonesque humour, entrancing dream landscapes, strange creatures, a dapper devil and a wise midget. It is an incredibly rich stew of a film and an often wilfully eccentric proposition for a mainstream audience.
IGN:
Heath Ledger fares better as Tony, a troubled soul whom the troupe rescue from a failed suicide attempt, although his tragic real-life death mid-way through production means that the role is played by three different actors during the fantasy sequences – Johnny Depp, Colin Farrell and Jude Law. Each acquits himself well, with Depp a particular stand-out, but with Ledger on such spellbinding form it's a shame we'll never get to see his complete performance.
These effects-laden sequences are definitely the highlights of the film, visually sumptuous feasts for the eyes that give Gilliam the opportunity to explore his own deranged imagination.
BBC:
...memorable performances come courtesy of singer Tom Waits, who is a beatnik Satan known as Nick, and Verne Troyer – best known as Mini-Me – who plays the tiny Fool to Christopher Plummer's Lear-like Parnassus character. In a movie shifting between reality and the imagination with every scene, he is the only voice actually talking sense.
There's no doubt that the imaginary world he's created is awe-inspiring, but it's ultimately designed for an art house audience. The critics at Cannes loved it, but most cinema-goers would need to see it more than once to start untangling the multiple themes.
When Gilliam shoots off into his surreal wonderland, his film has a kind of helium-filled jollity and spectacle. The moments when Plummer's face looms hugely out of the hallucinatory landscape are great: a reminder of the old Python magic.
Gilliam's previous movie Tideland showed he still has teeth, and he bares them occasionally here. The dark side reveals itself, time and again, in the ruined, unsentimental locations in London. But this movie, though perfectly amiable, could be for fans only.
Terry Gilliam went to the movies the other night, and this is what he saw. "Trailers from Transformers, G.I. Joe, Harry Potter; they all had the same explosions, the same sound mix, the same rhythms, it was all the same film," the director says, still not quite believing it. " Hollywood's been doing this for 20 years. When's it going to end?"
It ends right here and now at Cannes' Festival du Film, where Gilliam's The Imaginarium of Doctor Parnassus, a work as exceptional and unusual as its title, premieres out of competition today. A tale of good and evil battling for souls that's made with Gilliam's fantastic and fantastical visual imagination, Imaginarium is the director's best, most entertaining film in years.
In the interest of full disclosure, you will find that some of the reviews excerpted above try to conclude negatively. However, that even the bad reviews contain comments like these should indicate something. And even with the more negative notices mixed with the good, this is so far the best reviewed Gilliam film since at least Twelve Monkeys.
Get me to a screening. Now.