Page 2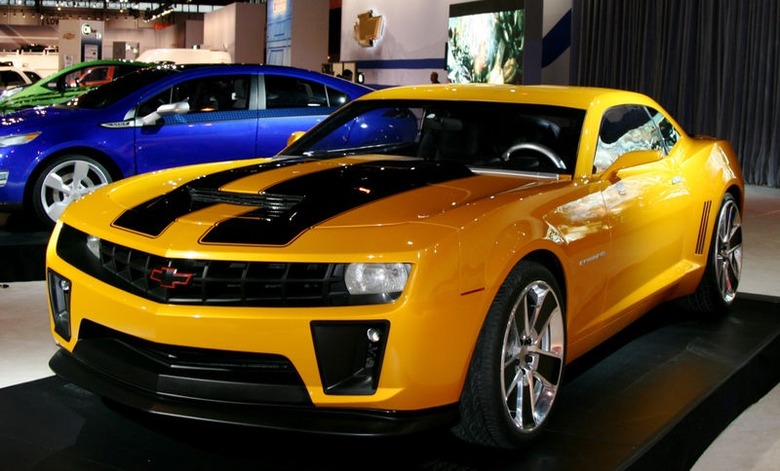 We may receive a commission on purchases made from links.
GM has announced that a limited Chevy Camaro Bumblebee Edition will be available to order beginning June 1st. Production will run from June 24th through December. [jalopnik] (via CharmCityFilm)
31 news tidbits not fit for the front page, available after the jump.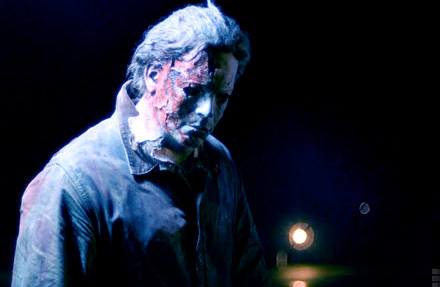 MTV has another new photo of Michael Myers from Rob Zombie's H2.
Director Terry Gilliam likes to joke, if asked what The Imaginarium of Doctor Parnassus is about, that "it's about making marketing people work very hard," [latimes]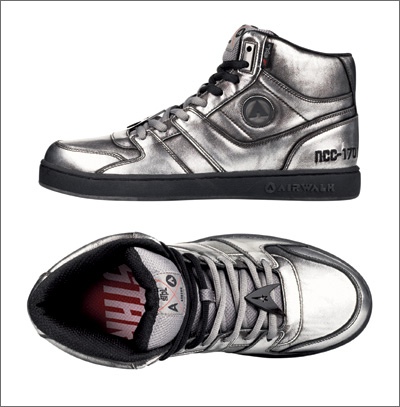 Jeff Staple has designed a limited edition set of Star Trek sneakers known as the "Enterprise Edition." [fanboy ]
Star Wars was named the best science fiction film in an online poll. Kinda obvious. [starpulse]
Did you know that Monsters Inc and Up director Pete Docter animated the Luxo lamp in the Pixar logo? [gossUP_girl]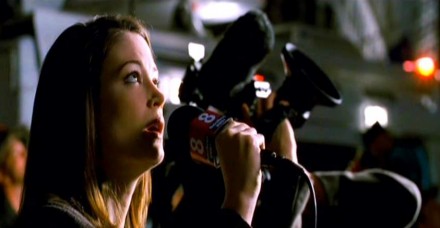 British actress Lucy Gordon, who played reporter Jennifer Dugan in Spider-Man 3, was found dead after apparently committing suicide. [reuters]
Lyndsy Fonseca has joined the cast of the time-travel comedy Hot Tub Time Machine. [THR]
IFC Films has picked up Lars Von Trier's Antichrist, but will it be released with an NC-17 rating? [playlist]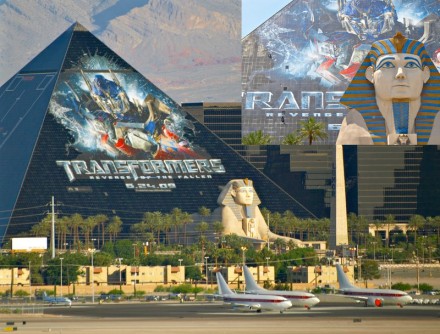 The Luxor in Las Vegas has been skinned with a Transformers: Revenge of the Fallen advertisement. [tlamb]
Spock's Vulcan salute is actually based upon a Jewish blessing gesture. [laughingsquid]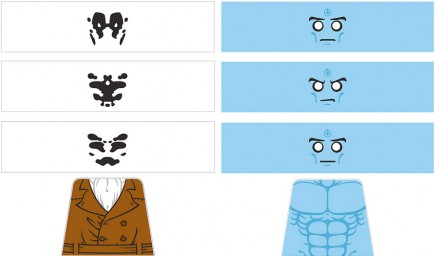 You can customize your own LEGO Watchman mini figures with these skins on Flickr . [toycutter]
Summit Entertainment has announced that The Twilight Saga: New Moon will have a panel at the San Diego Comic-Con International. I almost went deaf from the thousands of screaming girls who camped overnight to make my admittance into Hall H nearly impossible last year. I hope they put the panel at a better time this year.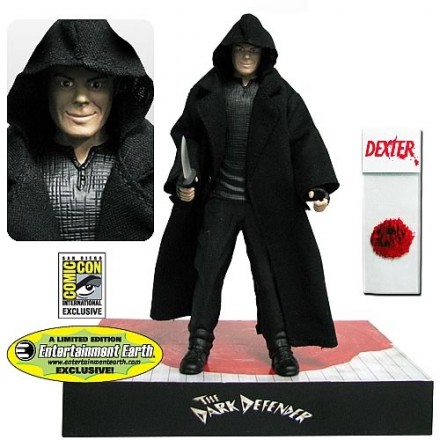 This 7-inch tall Dexter (The Dark Defender) Action Figure is Entertainment Earth 's Comic Con exclusive.
Obsessed with Film takes a look at the top ten Time Travel movies.
Rosario Dawson has been cast opposite Kevin James in the new Happy Madison romantic comedy The Zookeeper. Ugh!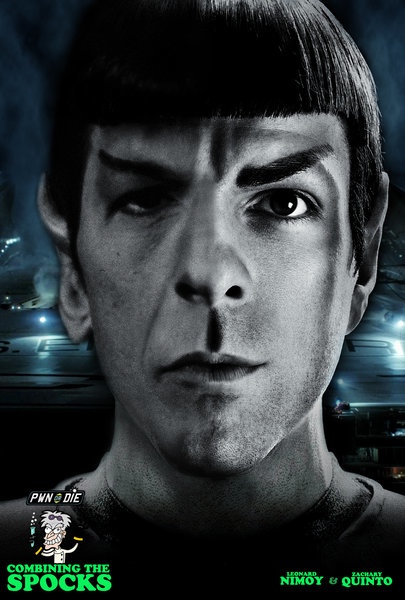 PWNorDie has photoshopped this cool image of the two Spocks, Leonard Nimoy and Zachary Quinto.
New footage from Harry Potter and the Half-Blood Prince and Transformers: Revenge of the Fallen will premiere during the MTV Movie Awards.
A new teaser trailer for Wanted director Timur Bekmambetov's superhero flying car movie Black Lightning. [QuietEarth]
This wasn't cool enough to post as a Geek Deal, but I'm sure there might interest a few readers. Amazon's Gold Box Deal of the Day is for Two and a Half Men: The Complete Seasons 1-5 for $99.99, 56% off the $225 msrp.
Kevin Smith HATED Twilight but his daughter LOVED the movie. [MTV]
The Blu-ray Disc Association is working to officially integrate 3D tech into the BD standard. [Gizmodo]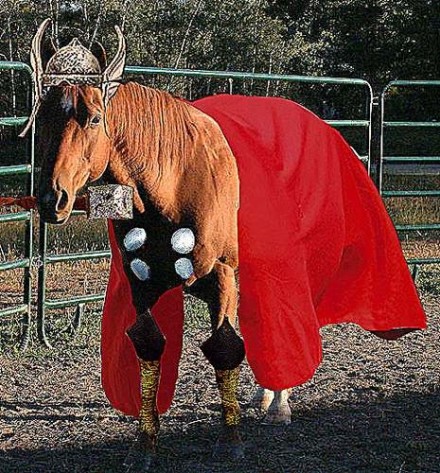 Thor + Horse = Thorse. [toplessrobot]
Production on The Last Airbender has reached the halfway point, 2 days ahead of schedule. [Frank Marshall]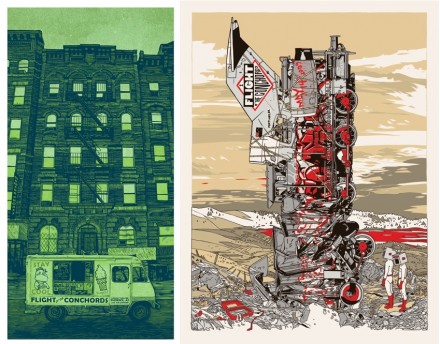 Daniel Danger (left) and Tyler Stout (right) have created awesome posters for Flight of the Conchords. [omgposters]
Sci-Fi Wire tries to make sense of the time travel in the Terminator series.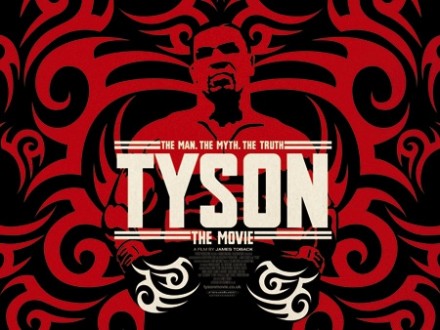 This was not the poster for James Toback's documentary Tyson, although it should have been. [notamovieposter]
Shawn Levy says that Darth Vader and Oscar the Grouch were "something that Tom [Lennon] and Ben [Garand] wrote in the very first draft of the script" for Night at the Museum 2. Levy tells SciFi "Honestly, I read it, and I was like, 'This is awesome, but there is no possible way you are going to get Oscar the Grouch and Darth Vader in our movie.' I thought it was a complete fantasy. I still can't believe it."
Zachary Quinto did the narration for the audiobook version of Alan Dean Foster's Star Trek film novelization. You can listen to a sample above. [quinto]
Disney is going to start selling Theme Park exclusive merchandise on the web. [Variety]
If Obama was on the television show Entourage, it would be called Obamtrage, and look like the pilot above.
Melissa Leo is in talks to star as Christian Bale and Mark Wahlberg's mother in The Fighter. [variety]