King Kong To Invade Hollywood Again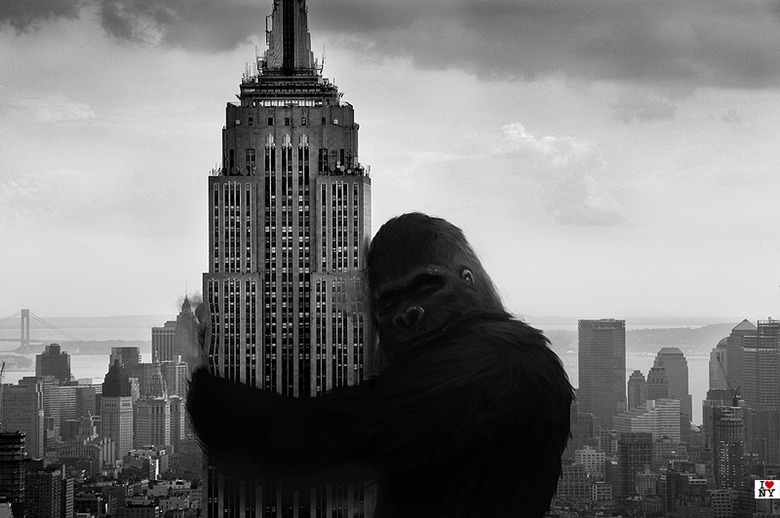 When the Universal Studios backlots were set ablaze in Hollywood last year, the fire destroyed sets and one of the park's signature attractions — King Kong. The ride has been part of the park's tram tour for over 20 years. But when the fire destroyed the attraction many speculated that Universal would replace it with a ride based on a more recent movie property. Fear not King Kong fans, Universal is rebuilding King Kong... kinda.
Universal is actually building a new version of the ride based on Peter Jackson's 2005 remake of the classic 1933 film, combining "visceral" effects with what Universal is calling "the world's largest Surround Digital projection system to create a next-generation theme park experience."
In the new attraction, guests will don special glasses as they enter a darkened sound stage aboard the Studio Tour trams and will be transported — via the magic of Surround Digital 3D projection — deep into the dark heart of the world of Skull Island. They'll survive a close encounter with a swarm of monstrous bats, only to be confronted by the terrifying presence of Kong himself.
Suddenly, an enormous, ravenous 35' tall dinosaur will challenge Kong, and guests will feel their trams jolt, roll and shudder as they find themselves caught in the middle of a ferocious showdown between the great ape and the giant lizard. The action will immerse guests in the battle between the two colossal predators.
The original Kong ride featured a 30-foot high, 7-ton animatronic gorilla. It is unclear if the new ride will use any animatronics (it doesn't sound like it) or will just be completely 3D. One of the things I loved about the original ride was that Kong was HUGE and real.
"King Kong has been an integral part of Universal Studios Hollywood for decades," said a statement from Larry Kurzweil, the park's president and chief operating officer. "We're very excited to announce that not only are we reintroducing King Kong, but we've completely reimagined the experience and will incorporate this legendary icon into a truly innovative Studio Tour attraction."
The studio tour will also get updated flat-screen high-definition monitors and digital playback systems with commentary from filmmakers Steven Spielberg, Ron Howard, Stephen Sommers, along with insight from such personalities as Al Roker, Nancy O'Dell, Billy Bush and Whoopi Goldberg.
The wonderful photo at the header of this article actually has nothing to do with the ride. It's actually a wonderful Peter Adams photo I found on Flickr.