SNL To Make MacGruber Movie?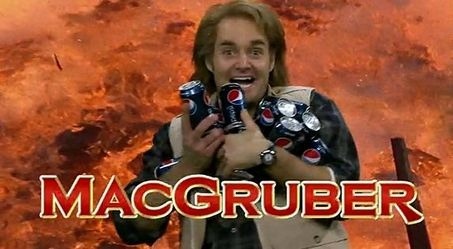 Saturday Night Live hasn't produced a big screen movie in almost ten years (unless you somehow count Mean Girls, Hot Rod or Baby Mama, which were produced by Lorne Michaels). And probably for good reason. SNL hasn't been relevant for nearly a decade, but in recent years has gotten a new life thanks to among other things, the addition of The Lonely Island crew.
And there was a short period of time when a Saturday Night Live movie wasn't a bad thing. It's hard to look beyond all the Ladies Mans, Superstars, Coneheads and Night at the Roxburys to see the one good film like Wayne's World. And with a track record like that, should Saturday Night Live return to the motion picture business? Lorne Michaels tells The Hollywood Reporter that a feature film based on MacGruber is being considered.
"It would have to be in the summer because we are back in production in the fall," Loren he told THR when asked about the possible production timing. "We're still in discussions"
MacGruber, of course, is the multi-part MacGyver parody that SNL has aired in the Digital Shorts portion of the show, and in a series of television commercials the aired during the Superbowl. The shorts are written by Will Forte, John Solomon, and Jorma Taccone, who is also credited with creating the character and directing the majority of the spots. The sketch stars Will Forte and Kristen Wiig. Richard Dean Anderson (who played the title role in the MacGyver series) has also made appearances.
The skit usually sets MacGruber, and another assistant (typically played by the SNL host of the week) in a life or death situation. They always find themselves in a control room, with MacGruber trying to disarm a bomb with everyday objects, while he's dealing and becomes distracted with some personal issue. You can watch the entire set of digital shorts below.
My problem with many of the SNL movies is that they were good skits but not much more. There was definitely not enough material to stretch something like Night at The Roxbury into an entire feature film. And I think MacGruber would likely be the same thing. It works as a sketch, which almost always ends with the bomb exploding. But could it work as a 95 minute comedy? I think I would rather see The Lonely Island guys develop an original comedic project.