Mystery Team Finds A Distributor!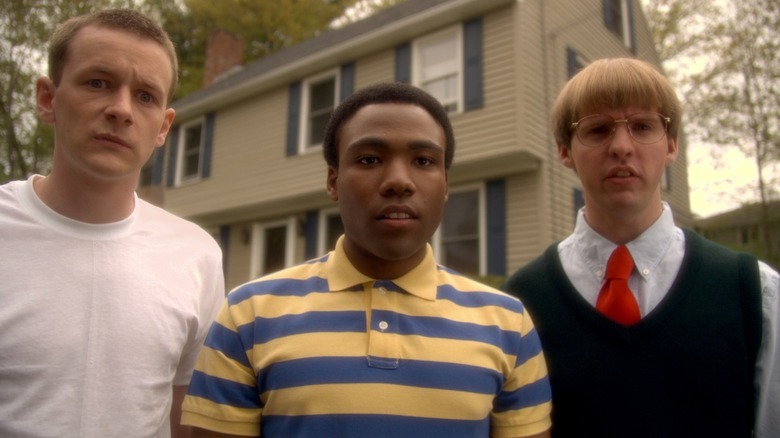 I know I might be stating the obvious, but the bad economic times have hit every industry, including the movie industry. Earlier this year at the Sundance Film Festival, it was a very different scene than previous years. I don't have the exact figures but it appeared that a lot fewer films were acquired compared to previous years. This of course left many films in a questionable state.  Earlier this week, the Jim Carrey/Ewan McGregor comedy I Love You, Philip Morris finally got bought.
If a Jim Carrey comedy is having that much trouble, you can imagine where this leaves the true independents, regardless if they might be the most marketable indie at the festival or not. Thankfully, good things come to those who wait. Derrick Comedy's Mystery Team has finally been acquired by Lionsgate's indie label Roadside Attractions.
Cinematical described it as "Encyclopedia Brown meets Napoleon Dynamite with a pinch of Ace Ventura" and CinemaBlend called it "the Rocky Horror Picture Show of mystery movies." Film School Rejects called it "perfect comedy for the internet generation." And we said it is " funnier and more original than 99% of the comedies Hollywood releases now-a-days." No word yet on an exact release date, but we've heard the words "this fall" and "Nationwide." Read the full press release after the jump.
ROADSIDE ATTRACTIONS ACQUIRES DERRICK COMEDY'S
MYSTERY TEAM
First feature length film from sketch comedy group Derrick Comedy
LOS ANGELES (May 18, 2009) – Roadside Attractions has acquired all U.S. rights to DERRICK Comedy's MYSTERY TEAM, the first feature length film from DERRICK Comedy, one of the web's most successful comedy teams, it was announced today by Eric d'Arbeloff, Co-President, Roadside Attractions. The group will embark on an innovative advance-release tour of colleges in the late summer, to be followed by a national release this fall. Directed by Dan Eckman, whose short film CHECKOUT won Best College Short at the HBO Comedy Arts Festival, MYSTERY TEAM had its world premiere at the 2009 Sundance Film Festival. In addition to Eckman, DERRICK Comedy includes producer Meggie McFadden, Donald Glover (30 Rock), Dominic Dierkes, and DC Pierson. Lionsgate (NYSE: LGF) will handle home video and all other domestic ancillary rights.
"This film is a jaw-dropping mash-up of absurd comedy and a dark crime mystery," said d'Arbeloff, "It's no wonder DERRICK'S shorts have been viewed over 100 million times online. Their enormous fan base will be a key part of this release. We're thrilled to be working with the team."
"We are excited to be partnering with Roadside for the release of this movie," said Eckman. "They combine a wealth of experience with an openness to new ideas. We view the marketing as an extension of the filmmaking process, and we've always seen this as an 'unconventional conventional' movie. We hope to carry that spirit through the release."
SYNOPSIS:
Oakdale's Mystery Team was once a spunky band of kid detectives dedicated to solving child-sized mysteries: who put their finger in the pie, or who stole a tricycle. The town loved them for it. Now the Team is about to graduate from high school and move in to the real world, but they're still storming the playground to bust little kids. Needless to say, the town of Oakdale is sick of it. Each member of the Team has a supposed specialty: Jason, the "Master of Disguise;" Charlie, the "Strongest Kid in Town;" and Duncan, the "Boy Genius."
But those skills may not be enough when one day a neighborhood girl asks the team to find out who killed her parents. The Team is taken for the first time into Oakdale's dark underbelly. A violent cartel of drug lords and strippers will threaten their lives, strain their friendships, and put their team slogan "NO CASE TOO HARD, NO CASE TOO TOUGH" to the test.
The deal was negotiated by Josh Braun of Submarine for DERRICK Comedy and by Eric d'Arbeloff, Co-President, for Roadside Attractions.
The film was directed and edited by Dan Eckman, produced by Meggie McFadden, with a story by Donald Glover, DC Pierson, Dan Eckman, Meggie McFadden, Dominic Dierkes. Screenplay by Donald Glover, DC Pierson and Dominic Dierkes and starring Donald Glover, DC Pierson, Dominic Dierkes, Aubrey Plaza, Bobby Moynihan and Matt Walsh.
ABOUT DERRICK COMEDY AND MYSTERY TEAM
The film's acquisition comes on the heels of sold-out preview screenings in New York and Los Angeles. A teaser trailer for the film has been viewed over one million times on YouTube. The trailer can be viewed at mysteryteam-movie.com.
DERRICK Comedy was formed after the five members met doing sketch comedy at New York University. The group began performing live improv, sketch, and stand-up comedy in New York, and started making internet videos for their website, derrickcomedy.com, in 2005.
DERRICK Comedy independently produced MYSTERY TEAM and shot the film over seven weeks in Manchester, NH in the summer of 2008.
ABOUT ROADSIDE ATTRACTIONS
Roadside Attractions is a film distribution company committed to championing independent films with a willingness to entertain. The company works with filmmakers to devise innovative marketing strategies that encourage audiences to see films that are not typical studio fare. Roadside Attractions' current releases include the critically acclaimed GOODBYE SOLO by Ramin Bahrani, winner of the 2008 Venice Film Festival's FIPRESCI International Critics' prize, and upcoming releases include the Sundance Audience award winning documentary THE COVE, RJ Cutler's much anticipated documentary THE SEPTEMBER ISSUE, and Chris Rock's hilarious comedy GOOD HAIR.
Previous theatrical releases include Patrick Creadon's Sundance sensation I.O.U.S.A; Toronto Film Festival People's Choice winner, BELLA; Andrew Wagner's Spirit Award-nominated STARTING OUT IN THE EVENING; Tarsem's groundbreaking visual marvel THE FALL; the outrageous comedy SARAH SILVERMAN: JESUS IS MAGIC; the Duplass Brother's THE PUFFY CHAIR; Academy Award® nominee SUPER SIZE ME; Spirit Award winner THE ROAD TO GUANTANAMO, as well as box office hits such as AMAZING GRACE, LADIES IN LAVENDER and WHAT THE BLEEP DO WE KNOW?