VOTD: Will Ferrell's SNL Rendition Of "Goodnight Saigon" With Tom Hanks And Crew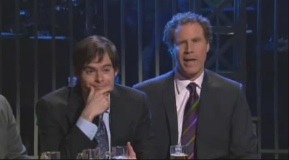 Last Saturday Night—as countless unseen choppers flew overhead—a pair of maracas suddenly appeared in the capable hands of host Will Ferrell. Like magic. They gathered: Tom Hanks (on sax!), Paul Rudd, Anne Hathaway, Peggy and fellow SNL vets like Amy Poehler, Maya Rudolph, Norm MacDonald (!), and Artie Lange (in jeans. Wait, wth?). Not to mention, a band best known for "Longview."
Ferrell, knee-deep in a yuppie's faux-VietNam flashback, lead one and all in a touching rendition of Billy Joel's wartime classic "Goodnight Saigon." The meaning behind the lyrics, "Yes, we would all go down together," in terms of the show's legacy, its cast future and past, and our shaky times is subjective. But most everyone will agree that the sketch ended the 34th season on a categorically awesome note. Ferrell was in the zone. At this point, he probably bathes there.
One request from /Film for the 35th season: Hire more guys who have to shave. At least once a week. Enough with the good private school genes already. Also, a poll pitting Ferrell's "Goodnight Saigon" against 3o Rock's lame shark-ramp "Kidney, Now!"? Boo.