Kevin Smith Wants To Make Hockey Movie - Hit Somebody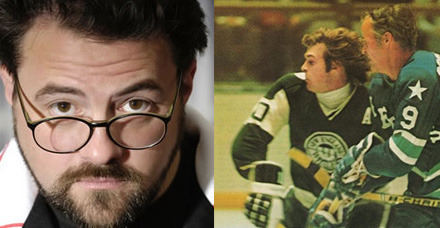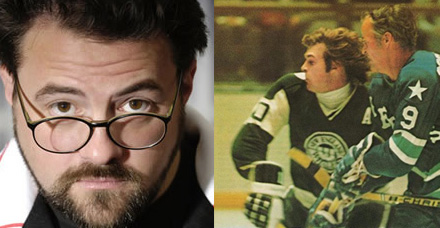 Anyone who has been following Kevin Smith on Twitter, or listening to his Smodcast podcast (highly recommended), then you know that the New Jersey-born writer/director has recently become obsessed with the sport of Hockey and Wayne Gretzky (edit: Smith has always been a casual fan of the sport, but it has recently been taken to an extreme). But it isn't just a pastime for Smith, he's also developing a movie which he hopes to have in production in the next two years.
The project is based on the Warren Zevon song, Hit Somebody (The Hockey Song), which was co-written by sportswriter and Tuesdays with Morrie author Mitch Albom, and featured the backing by The Late Show's CBS Orchestra, anchored by Paul Shaffer.
The song, Smith explained to MTV, is a "very wonderful, soaring, moving story that's also bittersweet and very, very funny, about a hockey player who just wants to play hockey, who loves hockey so much, but just sucks at it. The only thing he can do to be on a team is just be the enforcer, just be the guy who goes out there and beats the shit out of people." The film adaptation will be set in the late 1970s right before the World Hockey Association was absorbed into the NHL, "during the last gasp of the goon era of hockey when it was all about fighting."
The song has been one of Smith's favorites for years, and he's always wanted to make a movie based on it. He calls the film his "passion project" and says that while he never thinks about winning awards, "that project I think could do it." It sounds like Smith thinks he's onto something. It's the most excited I've heard him be about a project in a few years.
I've embedded the song from YouTube below: