Movie Poster For Neveldine/Taylor's Gamer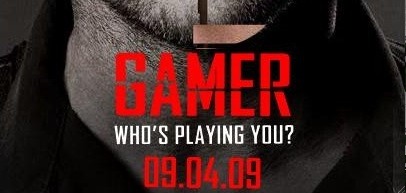 Once upon a time this film was simply called Game, which sounded too much like The Game. Then in it became Citizen Game, too close perhaps to Citizen Kane (ahem) but now it has been retitled again and, hopefully, for the last time.
Neveldine/Taylor's next action adventure smash 'em up is now going to be called Gamer. Unless, of course, somebody decides that title sounds too much like Gamers or Gamerz, those twin terrors of post-Clerks RPG nerd dramedy.
See the new poster after the jump.
This new Gamer handle can be seen in action – literally – on an interactive motion poster for the film premiered over at Ugo.
Swishing your mouse back and forth over the image of Butler, you can woosh away the digital facade to get a look at, I believe, Logan Lerman hiding underneath. He's currently filming a family fantasy film with Chris Columbus, having been cast in the title role of Percy Jackson. That one and Gamer should give his profile more of a boost than, say, Hoot ever did.
Here's a still version of the poster from those who suffer from pixel sickness.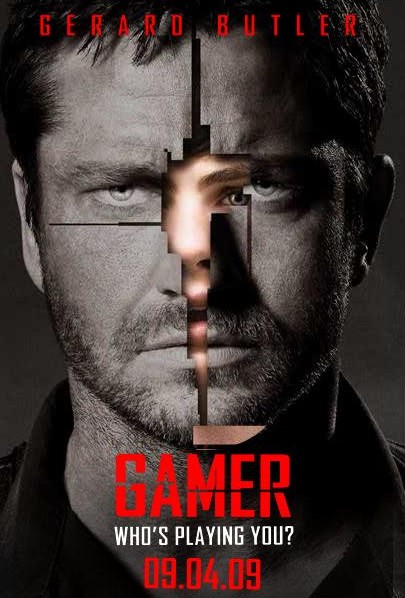 Filmed before the second Crank, I'd imagine there have been a number of factors in the relatively long period between production wrapping and Gamer hitting screens. For one thing, there's going to be a certain amount of FX work necessary to realize a film like this; for another, it seems too low key a prospect to toss into the summer maelstrom, and should benefit at the box office from this kindly release later in the year; and also, I fear, there may have been some arguments, recutting and panic after test screenings reports were less than rhapsodic. That last point is, formally, speculation on my part but... erm... let's not kid ourselves.
In the test screened version, at least, Butler's character doesn't speak for over 20 minutes at the beginning of the film and, worse still, when he does finally get some dialogue it doesn't quite add up. This should be an easy change to spot when the film rolls out in September, should revamping have been taking place. Between now and then, my sport is going to see how well this new name takes.