Keanu Reeves Is Jekyll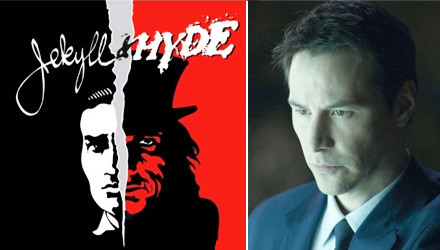 Keanu Reeves will star in Jekyll, a modern day retelling of Robert Louis Stevenson's 1886 classic novella The Strange Case of Dr. Jekyll and Mr. Hyde for Universal Pictures. The film will be directed by Nicolas Winding Refn, the filmmaker behind the Sundance hit Bronson and the 1996 Danish action crime thriller Pusher (you may have heard David Chen ramble on about this film, and the trilogy it spawned, in a previous /Filmcast). The film is being scripted by Justin Haythe, the BAFTA-nominated screenwriter of Revolutionary Road.
Details of Haythe's contemporary re-imagining have not yet been revealed, but the original novella tells the tale of a "London lawyer who investigates strange occurrences between his old friend, Dr. Henry Jekyll, and the misanthropic Mr. Edward Hyde." The story is best known for its portrayal of split personality, good vs. evil, and coining the popular phrase "Jekyll and Hyde". The book has been adapted for film, tv and stage over 123 times.
Most adaptions tell the story from the viewpoint of Dr. Jekyll, eliminating the mystery aspect presented in the source material. I'm not sure a mystery could be told as the split personality character has become infused in pop culture. The BBC aired a six-part miniseries under the same title, which was also a contemporary adaptation, set in London. It will be interesting to see just how different Haythe's take on the material may be.
If there is one thing Keanu Reeves is known for, it definitely isn't the range of his acting abilities. Don't get me wrong, he's good at delivering a certain kind of performance. But I'm skeptical that he could pull off the split personality gig.
This project is unrelated to the announced Guillermo del Toro adaptation Dr. Jekyll and Mr. Hyde, which went into development in 2008. With del Toro's busy schedule, I doubt we might ever see that gothic horror adaptation, and if we ever do, it is likely to be 10-15 years down the line.
source: THR