Robert Rodriguez Says Sin City 2 Could Shoot As Early As Next Year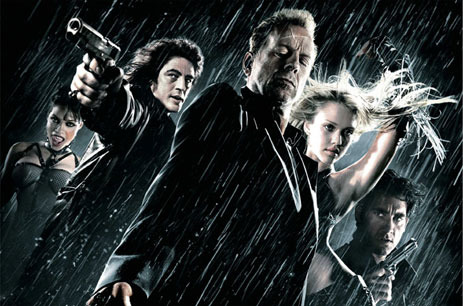 I think most everyone has given up the idea of a Sin City sequel, especially after Frank Miller's The Spirit tainted the memory of the original Robert Rodriguez co-directed comic book adaptation. Everyone involved with the original 2005 film has been talking up a sequel for the last four years. Rodrgieuz admitted in March that he's gotten so use to telling people that "right around the corner, because that's what everybody wants to hear" but that "It might be a long corner."
To promote the Blu-ray release, Rodriguez has been doing press, and now claims that he is beginning talks with his creative team and could begin filming as early as next year. The filmmaker tells IGN that "next week we're going to talk about it some more and get a timing on when we'd be doing it. But there's a lot of people who are interested in it. ... We are definitely going to do that one."
But this isn't the first time Rodriguez has put a date on record. Last year Rodriguez said that production could begin by April 2009.
The Weinstein Co recently lost the rights to the sequel, with Miller's estate supposedly shopping the sequel rights around to other Hollywood studios. A screenplay has been completed for some time and includes the story "A Dame to Kill For" as well as some new material written by Miller. Rodriguez and Miller have also said that they would like to cap the series as a trilogy with the story "Hell and Back".
Call me skeptical but I'll believe a Sin City sequel is happening when the official "Start of production" press release is sent out, and not a day sooner. Rodriguez is a very busy guy, and has a lot of projects on his already full plate. Next up is the sci-fi action film Neverackers, a direct-to-dvd Machete film which he will co-direct, a Predator reboot titled Predators which he produce and oversee (he's said he'll be very "hands on"), and a live-action adaptation of The Jetsons, which he has been developing for Warner Bros. Rodriguez has recently admitted that Barbarella remake is off the table.