Ben Stiller To Produce Little Britain Movie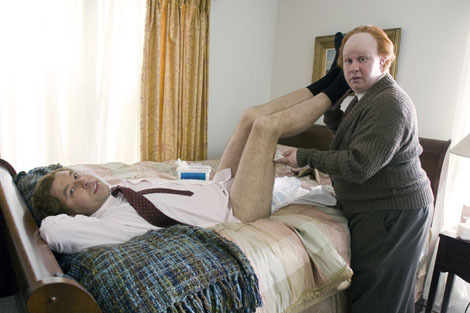 Sounds like its go-go-go for Little Britons Matt Lucas and David Walliams at the moment. Not only have they recently filmed a wave of new Rock Profile sketches, set to premiere on the UK wing of Funny or Die on May 11th, they are also writing their next US shows – though this time, they might be aired as one-off specials, rather than a series which suggests the first run wasn't exactly a smash. Most excitingly, though, the pair have finished their screenplay for the proposed Little Britain movie.
According to The Sun, the script is currently off at Ben Stiller's Red Hour production company and awaiting a greeen light. No doubt the BBC will be co-producing, and I'd imagine this will get made by the Beeb even if Stiller's company passes, if only on a tighter budget.
The script is reportedly set in Las Vegas and features a string of characters from the TV shows including, The Sun says, Bubbles DeVere, Carol Beer and Kenny Craig – or, to identify them by their catchphrases, "Why don't you take a photo, it'll last longer?", "Computer says no" and "Look into the eyes, not around the eyes".
Adapting sketch comedy to the big screen would appear to be almost impossible. While there have been many great films by sketch comedians (take a bow, Monty Python) and even a good handful of films that are, in effect, sketch shows writ large, the literal transition of a series of sketch characters into a feature narrative hasn't, as far as I recall, ever worked before.
The Sun also quotes David Walliams on new characters that he and Lucas are working on, though it doesn't sound as though they are for the movie, rather their next TV project:
We do have some new ideas for characters — a mum feeding her son to make him the fattest boy in America, a psycho American girlfriend, but without the bunnies, a woman who has everything Disney themed, and some annoying Scottish air hostesses.
As busy as ever then. And when this is all done, they apparently also have plans for a musical and an animation too.