Hugh Jackman Becomes A Ghostbuster In Ghostopolis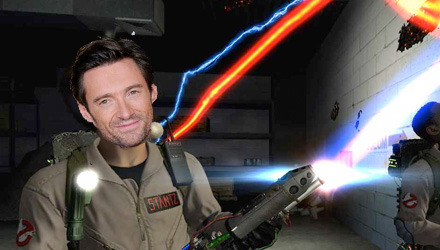 Disney has signed Hugh Jackman to star and produce a big screen adaptation of Doug TenNapel's upcoming all-ages graphic novel Ghostopolis. TenNapel is the Eisner Award-winning artist best known for creating Earthworm Jim.
According to the Hollywood Reporter, the book tells the story of a ghosthunter who works for the government's Supernatural Immigration Task Force. His job is to trap ghosts and release them back to Ghostopolis (hence the title). But a human boy is accidentally sent to the other side, and the agent must team with a female ghost (and former flame) to bring him back to our world. The premise sounds like it would be a better fit for animation, but it appears that the film is going to be live-action. No screenwriter or director has been hired.
TenNapel has spent four years developing the book, and started pitching the idea to Hollywood studios exactly a year ago. TenNapel wrote on his website on May 6th 2008 that he "pitched it around town to an exec at Disney and I got all choked up. I pitched it to fox last week and this time the executive got choked up! So I knew it was time to release the house and finish it double-time!" Doug's other graphic novels have been optioned by Hollywood, with Tommysaurus Rex set up at Universal, Creature Tech set up at New Regency and Monster Zoo set up at Paramount.