GI Joe: The Rise Of Cobra Movie Trailer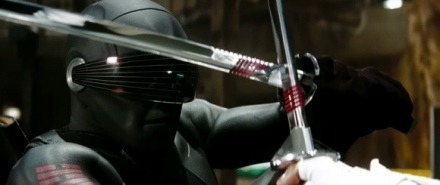 Paramount Pictures has released a new movie trailer for Stephen Sommer's GI Joe: The Rise of Cobra. If you thought the Superbowl teaser looked ridiculous, get ready for more silly action effects and horribly written, cheesy dialogue. I will admit, some of the action looks fun (yet still stupid), especially the car chase sequence. And I'm really interested to see Snake Eyes battle Storm Shadow. Watch the trailer after the jump, and leave your thoughts in the comments below.
From the Egyptian desert to deep below the polar ice caps, the elite G.I. JOE team uses the latest in next-generation spy and military equipment to fight the corrupt arms dealer Destro and the growing threat of the mysterious Cobra organization to prevent them from plunging the world into chaos. "G.I. Joe: The Rise of Cobra" is directed by Stephen Sommers ("The Mummy," "The Mummy Returns").
GI Joe: The Rise of Cobra hits theaters on August 7th 2009.
via: Film School Rejects