Geoff Darrow Writing And Directing Shaolin Cowboy Movie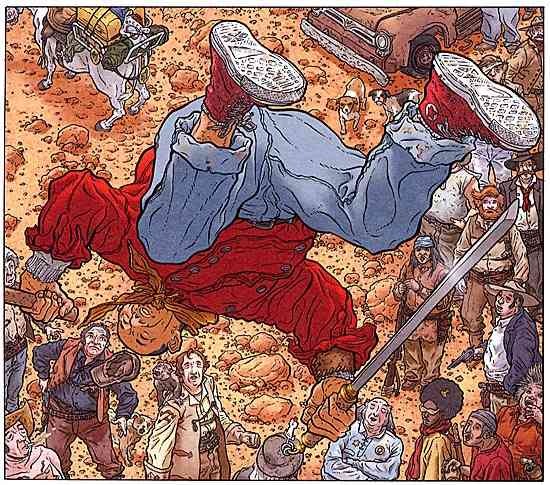 Excuse me for never having read Geoff Darrow's Shaolin Cowboy comics but I know some of his other work, most initmately his illustrations for Frank Miller's ultra violent Hard Boiled, and I've heard of both Shaolin monks and Cowboys. Oh... and I also know that, according to Variety, the comic is being adapted into an animated feature by Darrow himself.
They note that the producers on the film are to include the Wachowskis. No surprises there as Darrow has not only inspired them indirectly before (see The Matrix) he's also collaborated explicitly with them too (see... er... The Matrix, for which Darrow contributed concept art).
Indeed, the original Shaolin Cowboy comics are published by BurlyMan Entertainment, a company seeded by the Wachowskis and named with the fake, in-production title they used for the Matrix sequels.
Darrow has an intensely detailed style, facilitated by him creating the artwork at a greatly increased scale than in the eventually published issues. I can almost imagine this film being shot in the IMAX format, but even if it does end up being originated on 35mm film or HD video, as I'd expect, it will most likely benefit from being watched on a very large, very high quality screen, and probably many times over.
The premise of Shaolin Cowboy can be summed up simply – a Shaolin monk becomes a Cowboy – but the specifics fall way outside of such a predictable, simple logline. For example, the second lead character is apparently a talking mule called Lord Evelyn Dunkirk Winniferd Esq. the Third. I'm told that there's also a city on the back of a lizard, a martial arts fighting crab with nazi insignia plastered on it, chainsaw fighting with sharks and other things that, frankly, would make an incredibly  hard sell to a mainstream cinema audience – as if that really matters one jot. All the same, I hope there's more to this than simply a string of outrageous and absurd whims.
The comic was in the works for three years before Burlyman started publishing it but requires pages so detail-sodden that Darrow is already taking a full year to get issues wrapped. Who knows how difficult it is going to prove creating a moving version of this thing? Good luck to all in their wild ambition.