Robert Zemeckis Has A New Idea For Roger Rabbit 2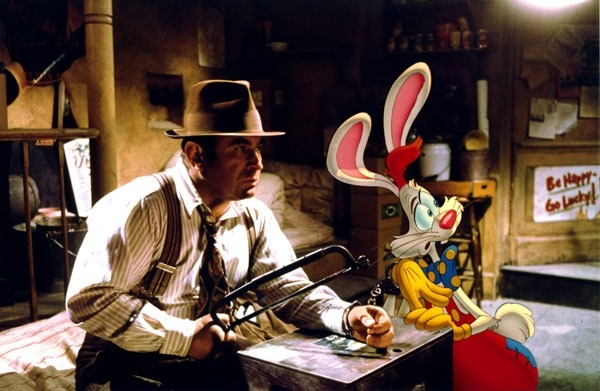 The sequel madness in Hollywood is starting to get out of control. Earlier this week it was revealed that Robert Rodriguez would be producing a Predator remake titled Predators, Ridley Scott was considering making a prequel to Alien, and that Mirage Studios are developing a live-action Teenage Mutant Ninja Turtles reboot. Russell Brand is remaking Drop Dead Fred. Yesterday Oliver Stone announced Wall Street 2. Last night we told you about how Joe Dante wouldn't be directing a Gremlins 3 and how Amy Heckerling may, or may not, be making a sequel to Clueless. And now there is talk of a Who Framed Roger Rabbit sequel!
Filmmaker Robert Zemeckis told MTV that all the new "digital tools and performance capture" has him "starting to think about" doing another Roger Rabbit. Of course, Zemeckis didn't give any more details, only adding that "new idea" has been "buzzing around in my head."
The original 1988 film was nominated for seven Academy Awards, four wins. I'm not sure how the new technology would elevate the effect of transplanting 2D animated characters into the real world, but I'm sure it has something to do with performance capture. And I'm sure the result would be a movie that takes place with humans trapped inside of the animated world of Toon Town.
But I actually think that there might be more stories to tell in the Roger Rabbit universe, and I even have some really topical ideas. Like I would like to see how Toon Town has dealt with the invasion of computer animation. I'm sure the 2D cartoon stars have now become "old news".
Many people don't know that the first film almost spawned a direct-to-video prequel. Written by Nat Mauldin, Roger Rabbit: The Toon Platoon told the story of a young Roger Rabbit, who meets a struggling Hollywood actress named Jessica while traveling west to find his mother. But when Jessica is kidnapped and forced to make pro-Nazi Germany broadcasts, Roger and  his human friend Ritchie Davenport go to Nazi-occupied Europe to save her. The film ended with a huge Hollywood parade where Roger us reunited with his mother, and his father... big reveal... Bugs Bunny. Ugh!
Disney later tried to rework the story without Steven Spielberg. Who Discovered Roger Rabbit told the story of Roger's "inadvertent rise to stardom on Broadway and Hollywood." Eight time Academy Award composer Alan Menken was even hired on to write five songs for the production, with Looney Toons: Back in Action helmer Eric Goldberg attached to direct the animation. A test sequence was filmed in 1998 which combined traditional animation, computer animation and live action. Disney wasn't happy with the results, so they also did a test with all the cartoon characters completely converted to CG. The budget quickly skyrocketed past $100 million, forcing Michael Eisner t pull the plug. It's probably better for everyone involved that neither films earned a greenlight.