Russell Brand To Remake Drop Dead Fred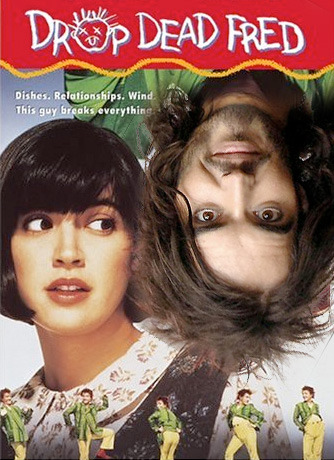 Universal Pictures has announced that they are developing a remake of Drop Dead Fred for Russell Brand to star in. Saturday Night Live writer Dennis McNicholas has been hired to develop the project for Brand. McNicholas most recently wrote Land of the Lost for Will Ferrell and director Brad Silberling. THR says the plan is to remake the movie in the tone of Beetlejuice, "building a universe around the concept of imaginary friends." Whatever that means.
The original 1991 movie starred Phoebe Cates as a young woman who battles with her controlling mother and womanizing husband, and finds comfort and confusion with the appearance of her childhood imaginary friend. The original film was bashed by critics, not particularly well liked by moviegoers, didn't make much money at the box office ($13.8 million total), but has somehow developed a small but vocal cult following on home video.
I'm not sure why Universal is remaking the film. Maybe some child of the 1980's executive was watching the original filmon cable television, noticed that the movie centered on a British comedian (Rik Mayall) with the same zany style of comedy that Brand sometimes employs. Universal appears to be in the Russell Brand business, producing the comedian's US screen debut Forgetting Sarah Marshall, the upcoming spin-off Get Him to the Greek, and now this crazy remake. I'm a big supporter of Brand, but I'd rather see him in some more original concepts.
Discuss: Do you want to see a Drop Dead Fred Remake starring Russell Brand?